You don't need to be a pastry chef to bake this deliciously tempting rose-shaped dessert. It tastes just like apple pie and it looks a lot like a beautiful red rose.  Made with naturally sweet apple slices, sprinkled with cinnamon and rolled up in a perfectly crispy puff pastry.
Cuisine: Western Course: Dessert
Skill Level: Novice
Prep: 20 mins Cook: 40 mins
Ready in: 60 min Serves: 6 serving
---
INGREDIENTS:
2 apples
1 egg, beaten
2 tablespoon brown sugar
1/2 teaspoon cinnamon
1 sheet of puff pastry, thawed
1/2 lemon, juiced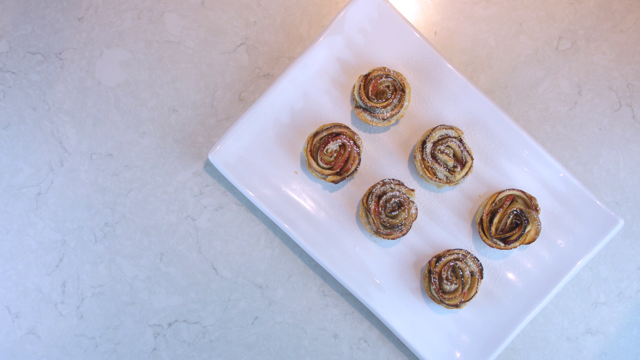 DIRECTIONS:
Preheat your oven to 375°F (190°C), grease your muffin tin with some butter or non-stick spray and set aside.
 Fill a small bowl with some water, squeeze in the juice of 1/2 of a small lemon and set aside.
Cut the apple in half lengthwise, core it and then slice each half into very thin half moon shapes, add the slices of apples in the lemon water immediately to stop them from turning brown. Drain the apples then place them in a shallow bowl and pop them in the microwave for 45 seconds.
On a lightly floured surface, roll out the puff pastry about one inch size with a rolling and then cut into 6 equal size strips.
 Brush the egg over the surface of each strip of puff pastry, then sprinkle a little cinnamon sugar on each one.
Lay the apple slices along the top half of each piece of puff pastry and fold the bottom half over the base of the apple slices.
Roll each one carefully and put each one in the muffin tin. Bake them on the middle rack of your oven for about 40 minutes then allow them to cool a bit and serve them with some caramel sauce.
RECOMMENDED PRODUCTS: