Imagine biting into a warm and soft chocolate chip cookie, and you find chewy and gooey strands of mochi inside. These mochi stuffed matcha chocolate chip cookies are irresistible and can be ready under an hour.
Cuisine: American, Japanese Course: Dessert
Skill Level: Novice Yield: 24 Cookies
Prep: 15 mins Cook: 12 mins Chilling: 30 mins Total: 57 mins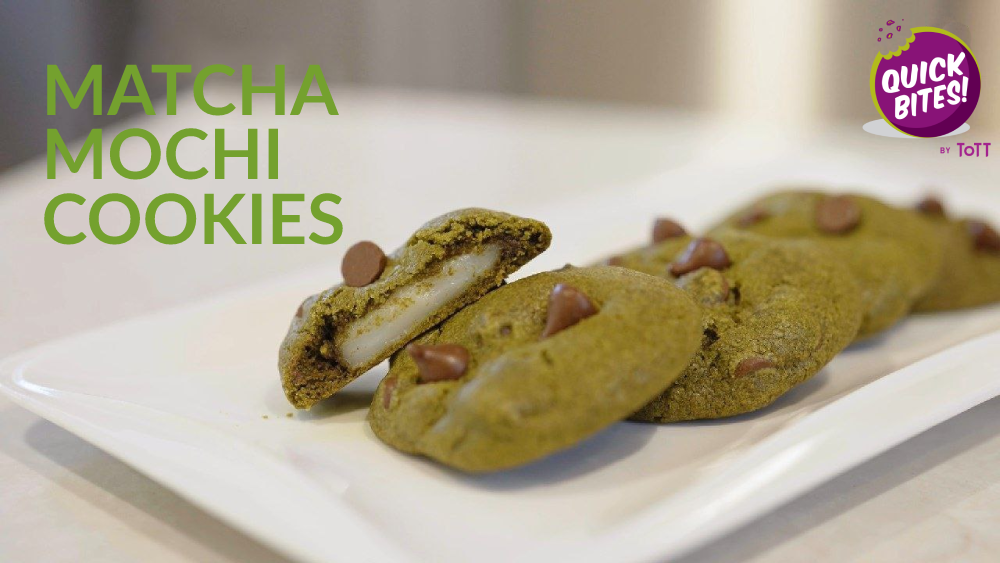 INGREDIENTS

Mochi
2/3 cup Glutinous Rice Flour
2 tbsp Granulated Sugar
2/3 cup Milk
1 tbsp Unsalted Butter
Matcha Chocolate Chip Cookies
1/2 cup Unsalted Butter
1/4 cup Granulated Sugar
1/2 cup Brown Sugar
1 Large egg, room temperature
1 1/2 cup  All Purpose Flour
1 tsp Baking soda
1/4 tsp Salt
2 tbsp Matcha Powder
1/2 cup Chocolate Chips
DIRECTIONS
Mochi:
In a microwave-safe bowl, add glutinous rice flour, sugar, and milk together. Whisk together until no lumps.
Cover the bowl with plastic wrap and microwave on high for about 2 minutes. Stir in butter into the mochi mix and fold in with a spatula.
Grease your hands with butter or cooking spray. Separate mochi into 12 equal portions and roll them into balls. Place in fridge for 30 mins to chill.
Matcha Chocolate Chip Cookies:
In a large mixing bowl, add butter, granulated sugar, and brown sugar. Using an electric mixer with paddle attachment, cream butter and sugar together until smooth. Add egg to the butter mixture until combined.
In a separate bowl, sift flour, baking soda, salt, and Matcha powder and mix together.
Add the dry flour mixture into the wet ingredients, mix until just combined. Then fold in chocolate chips.
Chill the dough in the refrigerator for about 15-30 minutes.
Assembly:
Preheat the oven to 180C. Line baking sheets with parchment paper or grease with cooking spray.
Take 2 tbsp of chilled cookie dough, roll into a ball, flatten it out, and make a dent in the middle. Fill each cavity with a piece of cooled mochi. Seal the doughball. Add more chocolate chips on top if desired. Repeat until all dough is used.
Bake for 11-12 minutes or until the edges of cookies are set. Let cool for 10-15 minutes on the baking sheet before transferring to the cooling rack.