Enjoy the sweet and savoury Salted Egg Custard Pau with salted egg custard oozing out that looks seemingly simple.
Cuisine : Asian  Course : Appetizer Skill Level : Novice
Prep : 2 hrs  Cook : 20 mins Ready in : 2 hrs 20 mins  Serves : 6-8 Servings
---
INGREDIENTS
Pau Dough

Sponge Dough

1pkt Instant Yeast
150ml Water
¾ tsp Condensed Milk
300gm HK Flour

200gm HK Flour
¾ tbsp. D. Baking Flour
120gm Sugar
1/3 tsp Ammonia Powder
70gm Water
30gm Crisco Shortening

Salted Egg Custard Filling

80gm Egg Yolks (Steam 8 mins & mash)
80gm Fine Sugar
60gm Custard Powder
40gm Milk Powder
60gm Coconut Milk
20gm Corn Starch
80gm Butter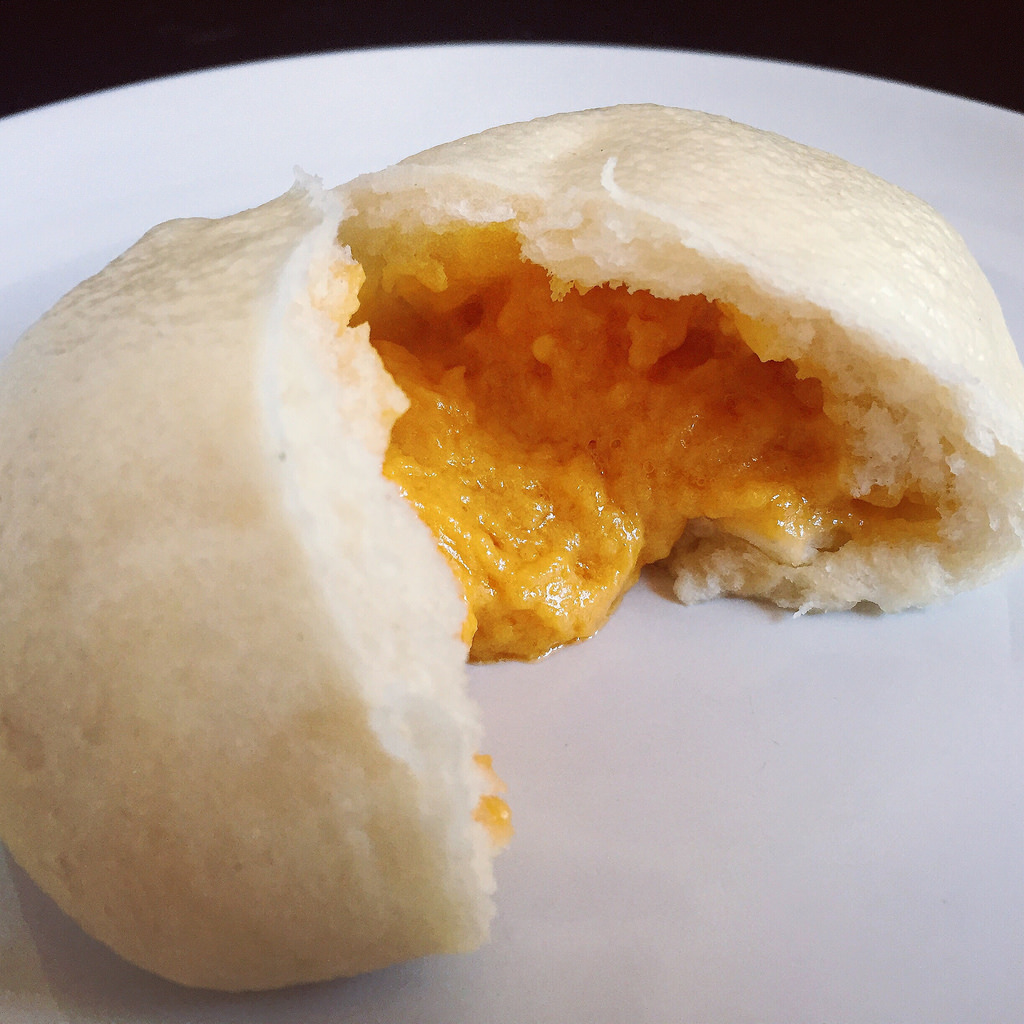 DIRECTIONS FOR PAU DOUGH
To make the sponge dough knead all ingredients into a dough and allow it to rest for 30 minutes.
Mix all ingredients in a mixing bowl and add in the sponge dough. Knead till shiny and smooth about 30 minutes.
Roll into a ball & proof for another 30 minutes. Portion into 25gm.
Wrap Char Siew fillings and fold into a circular motion to form a pau shape.
Put on a piece of white paper and rest for 15 minutes.
Steam at highest heat for 8 minutes.
DIRECTIONS FOR SALTED EGG CUSTARD FILLING
Cream the butter for 3 minutes and add in all the ingredients.
Chill until it becomes firm and portions into balls. Freeze until solid hard.
Place in oiled paper cups & rest for 10 minutes before steaming.
Steam in high fire for 8-10 minutes. (Don't over steam or it will burst!)