Tauhu Telur, a Indonesian street food made of tofu and fried omelette, typically served with a spicy peanut sauce.
Cuisine : Asian Course : Appetizer Skill Level : Novice
Prep : 10 mins Cook : 20 mins Ready in : 30 mins Serves : 2 Servings
---
INGREDIENTS:
Kicap Manis

40g Sugar
2 tbsp Water
2 tbsp Fish Sauce
100ml Water
3 tbsp Light Soya Sauce
1 tbsp Dark Soya Sauce
120g Gular Melaka
2 tsp Calamansi Lime Juice
Small Green Lime

Omelette

250g Silken Tofu, cut into 1cm cubes
4 Eggs, beaten
1 tbsp Fish Sauce
Oil for Cooking
40g Cucumber, finely sliced
50g Cabbage, finely sliced, blanched
30g Bean Sprouts, blanched
20g Peanuts, deep fry or roasted
Coriander Leaves for garnish
Sliced Red Chilies for garnish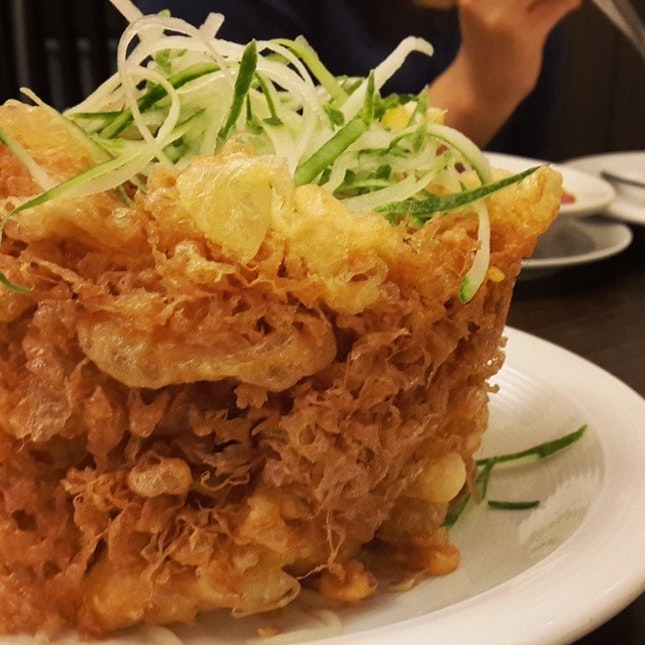 DIRECTIONS:
Caramelise sugar and water together till golden brown. Add fish sauce, water, both light and dark soya sauces. Stir in the Gula Melaka until melted. Remove from heat and add the calamansi lime juice. Set aside.
Combine tofu, eggs and fish sauce together. Heat oil and pour in omelette mixture. Cook until golden brown. Transfer to serving plate.
Add cucumber, cabbage and bean sprouts. Drizzle with home made kicap manis, sprinkle on peanuts, garnish with fried shallots, coriander leaves and chilies. Serve immediately.