Slow Cooked Salmon Confit, Served with Pumpkin in Textures
by Stephan Zoisl
The slow-cooked confit melts in your mouth and highlights the exquisite flavour of salmon! If you think that serving the confit with pumpkin might make the dish boring, think again – this recipe uses the humble pumpkin in not one, but five different ways!
Cuisine : European Course : Appetizer Skill Level : Novice
Prep : 20 mins Cook : 30 mins Ready in : 50 mins Serves : 2-4 Servings
---
INGREDIENTS:
600g Salmon Trout
60g Red Onion
20g Parsley
20g Chives
100g Sour Cream
50ml Olive Oil
50ml Extra Virgin Olive Oil
30g Butter
600g Pumpkin
10g Sugar
Spices

10ml Pumpkin Seed Oil
0.5 punnet Purple Shiso
15g Pumpkin Seeds
Salt & Pepper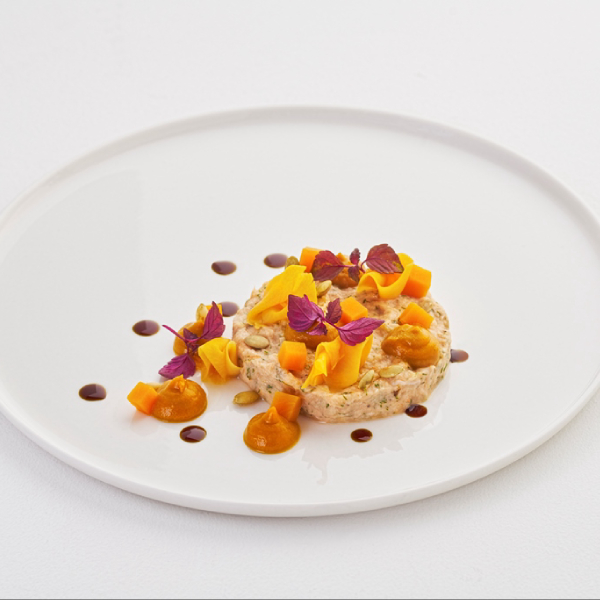 DIRECTIONS 
Trim trout, remove skin and bones, cook in small amount of olive oil at 55C till cooked. Flake the trout and marinate.
Prepare pumpkin puree and pickled pumpkin.
Place trout confit (80g) onto the plate, make dots of pumpkin puree.
Garnish with pickled pumpkin (ribbon & cubes)
Finish with purple shiso, pumpkin seeds and pumpkin seed oil.
EQUIPMENT
4 x Squeezy bottles for puree.
2 x Fine nozzle squeeze bottle for oil.
2 x Rings (stainless still) for trout confit.