Impress your guests with an Authentic Thai Grill Chicken, known as Gai Yang, that is easy-to-make and absolutely finger-licking good!
Cuisine : Asian Course : Appetizer Skill Level : Novice
Prep : 2 hrs 15 mins Cook : 40 mins Ready in : 2 hrs 55 mins Serves : 6-8 Servings
---
INGREDIENTS:
Grilled Chicken

4pcs Boneless Chicken Leg / ½ Chicken
2 tsp Coriander Seeds (toasted)
1 stalk Lemon Grass
2cm sliceBlue Ginger
5 cloves Garlic
3 tbsp Light Soya Sauce
3 tbsp Fish Sauce
1 tbsp Palm Sugar
½ cup Water
1 tbsp Canola / Sunflower Oil

Dipping Sauce

2 tbsp Tamarind Juice
1 tbsp Lime Juice
1 tbsp Palm Sugar
Finely Chopped
1 tbsp Shallot
½ tbsp. Yellow Onion
2 stalks Parsley
½ tbsp. Toasted Sesame Seeds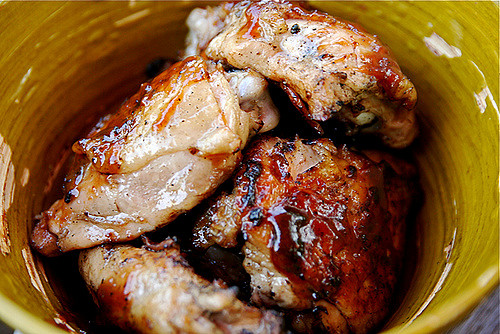 DIRECTIONS 
Grind white peppercorns and coriander seeds and pestle or a coffee grinder. When fine, add lemongrass, blue ginger and garlic and grind until fine. Transfer into a bowl and add all remaining marinade ingredients; stir to dissolve the sugar.
Add chicken to a zip-top bag or a casserole dish and pour the marinade over, making sure all the pieces are well coated. Marinade at least 2 hours or overnight.
Arrange lemon slices on rack and place chicken on top.
Grill at @ 180C until is golden brown and the chicken juice run clear.
Baste the chicken with the excess marinates after 20 minutes.
DIRECTIONS FOR DIPPING SAUCE
Simmer hot the excess marinate from the chicken and palm sugar.
Off fire and add in the tamarind, fish sauce, lime juice and palm sugar; stir until the sugar is dissolved.
Add all remaining ingredients and stir. If making sauce in advance, add in before serve.