Chocolate + Popsicles! The one thing you need to learn how to do in this hot summer. You just need a Popsicle mould and this video and you are good to go.
Cuisine : Baking Course : Dessert Skill Level : Novice
Prep : 5 mins Cook : 10 mins Ready in : 375 mins Serves : 8

---
INGREDIENTS:
2 cups of Southdale Farm Milk
2 tbsp Sugar
2 tbsp Cocoa Powder
1 cup Semi-sweet Chocolate Chips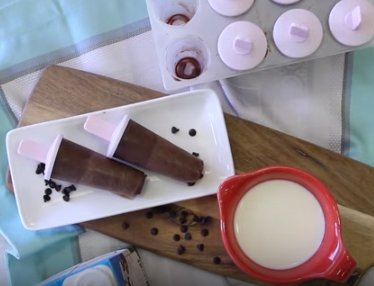 DIRECTIONS:
Heat up 2 cups of Southdale Farm Milk on high heat.
Turn off heat before milk boils.
Whisk in 2 tbsp of sugar and cocoa powder.
Pour mixture into 1 cup of semi-sweet chocolate chips and let it sit for 2 minutes.
Whisk until chocolate is completely melted.
Let mixture cool before pouring into Popsicle mould.
Place Popsicle sticks into the mould.
Freeze it for 6 hours or more.
Unmould the Popsicle and enjoy!