In this classic Japanese recipe, the Karage Chicken should be crispy on the outside and juicy on the inside. Try this at home and give your kids another choice for fried chicken.
Cuisine : Asian Course : Appetizer Skill Level : Novice
Prep : 135 mins Cook : 10 mins Ready in : 145 mins Serves : 2

---
INGREDIENTS:
Marinade
2 tbsp All-Purpose Japanese Soya Sauce
2 tbsp Mirin
1 tsp Sugar
10g Ginger (grounded)
10g Garlic (grounded)
300g Boneless Chicken Leg (diced)
150g Rice Flour (for dusting)
Wasabi Mayonnaise
3 tbsp Mayonnaise
1 tsp Wasabi Paste
1 tbsp Condensed Milk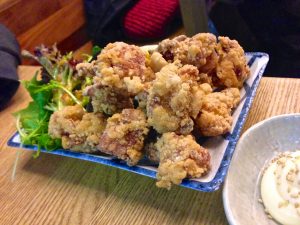 DIRECTIONS:
Combine ingredients for marinade except the two flours and use it to season the chicken for at least 2 hours.
Combine ingredients for wasabi mayonnaise.
Dust the marinated chicken with the rice flour. Preheat oil for deep-frying.
Deep fry chicken until golden brown.
Serve with wasabi mayonnaise.