This classic is made with fresh raspberries, pastry cream and tart dough. Satisfy your sweet tooth and make your own version of a fresh fruit tart at home!
Cuisine : Baking Course : Dessert Skill Level : Novice
Prep : 105 mins Cook : 20 mins Ready in : 125 mins Serves : 6

---
INGREDIENTS:
Crust

250g Flour
125g Cold Butter
60g Sugar
1 Egg

Filling

100g Raspberry Jam
375g Milk
75g Sugar
25g Corn Flour
1 tbsp Vanilla Bean Paste
35g Butter
5 Egg Yolks
200g Raspberries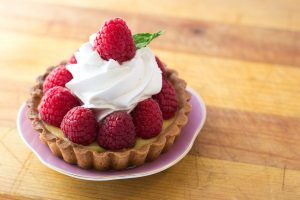 DIRECTIONS:
        Crust
Line a pie mould with parchment paper.

Cut the cold butter into small cubes. Crumble it into the flour and sugar.

Add in the egg and form the mixture into a dough. Do not knead or overwork the dough. Cover it in cling film and let it sit in the refrigerator for 20 minutes.

Roll out the dough in between two sheets of baking paper.

Invert into a greased and lined pie mould. Let sit in the refrigerator for another 20 minutes.

Dock the pie crust and blind bake in a preheated oven at 180°C for 15 minutes or until light brown.

Brush with slightly beaten egg and place it back in the oven for 1 minute.

Allow to cool 5 minutes before filling.

Filling          '

Heat the milk in a sauce pan.

At the same time, whisk the egg yolks and sugar together till creamy. Whisk in the corn flour and the vanilla bean paste.

Drizzle in the warm milk, whisking all the time.

Pour it back into the sauce pan and cook until the custard bubbles and thickens.

Take it off the heat and add in the butter. Cool completely

Assembling Tart

Brush the base of the tart with the jam, reserving 2 tbsp for the topping.

Pipe over the cold custard and arrange fresh raspberries over it.

Warm the remaining jam with 1 tbsp of water and brush the raspberries with the jam.

Refrigerate for at least an hour before serving.