Surround the smooth pudding with crunchy ladyfingers and top with berries. Just like that, you have created a refreshing dessert packed with anti-oxidants and health benefits. Oh, don't forget that it looks so delicate that your family and friends would be impressed for sure!
Cuisine : Baking Course : Dessert Skill Level : Novice
Prep : 150 mins Cook : 5 mins Ready in : 155 mins Serves : 6

---
INGREDIENTS:
Charlotte

Yogurt Cream

100g Mixed Raspberries (frozen puree)
50-60g Icing Sugar
150g Greek Yogurt
150g Mascarpone
½ Lemon (or lime juice)
160g Cream (35% fat)
4 sheets of Gelatine (10g)
125g Berries (raspberries, strawberries, blueberries, mint leaves)

Raspberry Jelly

125g Mixed Raspberries (frozen puree)
50g Caster Sugar
¼ tsp Agar-Agar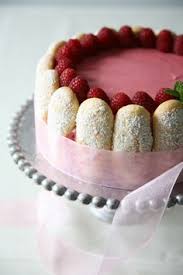 DIRECTIONS:
         Charlotte
Put 6 circles on a tray (covered with baking paper) and line them with 8 ladyfingers (cut in 2 lengthwise), the sugar coated side towards the circle

Raspberry Jelly

Heat the raspberry puree with sugar and agar-agar in a small pan and let cook for 1 minute.

Let cool out until room temperature (25 – 30°C)

Yogurt Cream

Whip the very cold whipping cream in a chilled bowl until stiff and refrigerate.

Soak gelatine sheets in cold water for 10 minutes. Heat up raspberry puree and lemon juice in a small pan or in microwave (40°C), then dissolve soaked gelatine in the warm puree, stirring gently with a spoon.

In a bowl, mix soft mascarpone with yogurt and icing sugar. Add raspberry puree and mix thoroughly. Refrigerate.

When raspberry cream starts to gelify on the border, fold in carefully whipped cream with a rubber spatula.

Fill raspberry cream in circles, almost to the top – let some space for raspberry jelly. Refrigerate the Charlottes for 1-2 hours, then pour gently raspberry jelly on top.

Garnish with berries and mint leaves and refrigerate.

To Serve

Take away circles and present each Charlotte on individual plates.