Start your day right with homemade Mulitgrain Sandwich Loaf for a hearty breakfast sandwich!
Cuisine : Baking Course : Appetizer Skill Level : Novice
Prep : 120 mins Cook : 30 mins Ready in : 150 mins Serves : 6

---
INGREDIENTS:
3 3/4 cups Multigrain Flour (9 blend variety)
1 1/2 tsp Yeast
1 cup Milk (or water)
1 Large Egg
1 tsp Salt
1 tsp Sugar
1 tbsp Olive Oil for grease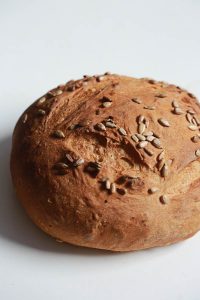 DIRECTIONS:
     Directions using KENWOOD BREAD MAKER:
Add the yeast on the bottom.
Add the multigrain flour.
Tip it in followed by sugar, salt, honey and liquid (water or milk).
Set as 'basic bread' as per the bread maker manual.
     Directions using KENWOOD MIXER or Hands Kneading:
Add all the ingredients in a mixer, or knead by hand, adding liquid gradually to achieve soft tacky dough.
Leave to rise for about an hour.
Do not punch down the air, instead roll and shape into a loaf pan.
Leave it to rise for another 30 minutes.
Brush top with milk and sprinkle some grains or seeds.
Bake at preheated oven of 190°C for 30-35 minutes.