The ingredients may look daunting, but this delicacy is well worth the effort. Achieve restaurant-like quality with this simple recipe.
Cuisine : Asian Course : Main Skill Level : Novice
Prep : 5 mins Cook : 210 mins Ready in : 215 mins Serves : 8

---
INGREDIENTS:
700g Pork Belly
3 Rehydrated Sea Cucumber (about 500g)
Shredded Leeks

Seasoning A

2 stalks of Spring Onion
2 slices of Ginger
1 Star Anise
2 tbsp of Wine
5-6 cups of Water

Seasoning B

2 tbsp of Knife Salted Soy Bean
¼ cup of Dark Soy Sauce
¼ cup of Hua Diao Wine
1 tsp of Dark Soy Sauce
1½ tsp of Rock Sugar
2-3 cups of Water

Seasoning C

1 tbsp Wine
1 stalk Spring Onion
2 slices Ginger
4 cups Cold Water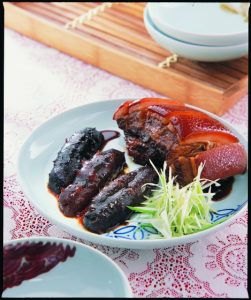 DIRECTIONS:
Cook the whole piece of pork in boiling water for about 1 minute. Remove and rinse well. Cook together with Seasoning A for about 1 hour. Remove pork.
Place pork in a steaming bowl, skin side down. Add Seasoning B and cover the bowl with cling wrap. Steam over high heat for about 2 hours until the meat is very soft.
Rinse sea cucumber. Place in a pot and add Seasoning C. Bring it to a boil, then cook over low heat for about 10 minutes. Remove.
Strain the juice and pour in a soup pot, put in pork (skin side up) and sea cucumber. Cook over medium low heat, drizzle gravy over the pork skin as you cook until the gravy is only about 2/3 cup left and turns thick and shiny. Remove.
Cut pork into big slices and place together with the sea cucumber on a serving dish, pour gravy over and scatter some shredded leeks to serve.