Tiramisu is a famous italian dessert consisting of alternating layers of coffee-soaked Savoiardi biscuits and sweet mixture of mascarpone cheese, eggs and sugar. Make this luscious dessert and find yourself wanting for more.
Cuisine : European Course : Dessert Skill Level : Novice
Prep : 330 mins Cook : 0 mins Ready in : 330 mins Serves : 4

---
INGREDIENTS:
250g Mascarpone Cheese
200ml Whipped Cream
2 Egg Yolks
50g Sugar
50ml Marsala Wine
40ml Rum
4pcs of White Sponge Fingers
Sponge Finger Syrup
75ml Strong Coffee
25ml Marsala Wine
30ml Rum
Cocoa Powder (for dusting or bitter chocolate shavings)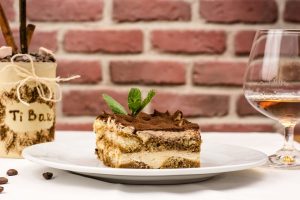 DIRECTIONS:
Cream egg yolks and sugar together until pale yellow. Add cheese, whipped cream, Marsala wine and Rum. Mix well and chill.
Combine ingredients for sponge finger syrup.
Arrange the sponge fingers in setting containers. Dab generously with the sponge finger syrup. Cover with the remaining cheese. Chill the tiramisu until set.
Dust the tiramisu with cocoa powder. Add some chocolate shavings to the tiramisu before serving.