This marmalade is traditionally created for  complimenting the christmas turkey. Sugar is first caramelized then spices are added. The cranberries are added last and mixture is let to simmer until thick and jam-like.
Cuisine : American Course : Condiment Skill Level : Novice
Prep : 10 mins Cook : 45 mins Ready in : 55 mins Serves : 15

---
INGREDIENTS:
60g Sugar
4 tbsp Water
1 piece of Cinnamon Stick
100g Onions (finely chopped)
200ml Red Grape Juice
200ml Water
150g Dried Cranberries
50ml Red Wine or Port Wine
25ml Red Wine Vinegar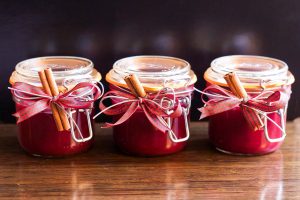 DIRECTIONS:
Caramelise sugar with spices. Add the onions and pour in the grape juice, wine and water.
Add the cranberries and bring to the boil. Reduce heat to simmer. Cook for half an hour over a slow fire until thick and jammy. Remove spices before serving.
Puree half of the cranberries to get a more jam like consistency if desired.