This Granola Parfait recipe by Dr Jehanne Ali is a great snack or a healthy, nutritious breakfast on-the-go! Use Mishalle's Granola from The Cooking Doctor's new range of products – prepare a batch of compote in advance and you have breakfast settled for one week! 
Cuisine : American Course : Dessert Skill Level : Novice
Prep : 10 mins Cook : 5 mins Ready in : 15 mins Serves : 1-2

---
INGREDIENTS:
3 tbsp Mishalle's Granola
½ cup Greek Yogurt
2 tbsp Strawberry compote

For the Compote

400g Strawberries, hulled and halved
1 Vanilla pod
50g Granulated sugar
Juice of half lemon
1 tsp Corn startch (optional)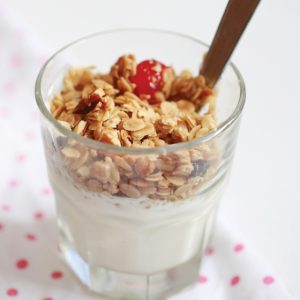 DIRECTIONS:
Put all the ingredients in a saucepan and simmer on low-medium heat until the strawberries are mushy. To make the compote thicker, mix the cornstarch with ¼ cup water and add into the saucepan. If not serving immediately, the compote is best refrigerated for up to 2 weeks.

To make a Parfait

Place some compote on the bottom of the cup followed by Greek yogurt and granola. Layer a few times as you wish.
Serve cold, perfect for a healthy snack or breakfast on-the-go.