This is a Christmas staple not to be missed! The turkey is rubbed with spices and seasoning, then laid on top of a bed of vegetables for roasting. Cooking time may vary depending on the size of the turkey.
Cuisine : American Course : Main Skill Level : Novice
Prep : 15 mins Cook : 90 mins Ready in : 105 mins Serves : 15

---
INGREDIENTS:
1 Whole Turkey (4-4.5kg or 8-10 pounds)
2 tbsp Paprika
2 tbsp Salt
2 tbsp Coarse Ground Black Pepper
2 tbsp Oil
2 Large Onions (thickly sliced)
2 Medium Carrots
3 stalks of Celery (roughly chopped)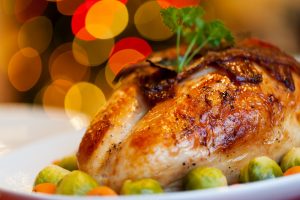 DIRECTIONS:
Mix all the spices, seasonings and oil together. Rub all over the turkey with it.
Preheat oven to 160°C. Line baking tray with foil. Toss the vegetables with some olive oil and salt. Spread the vegetables on the tray and place the turkey on the vegetables.
Roast turkey for about 1 hour 30 minutes, basting once with the pan juices every 20 minutes. In the last 20 minutes, increase the temperature to 180°c to brown the skin if required.
Allow turkey to rest for 15-20minutes before slicing up to serve.