Kick off your next get-together party with the irresistible and rich combination of nachos and flavourful spinach dip. This recipe is easy to achieve and prepare. Get the party starting!
Cuisine : American Course : Appetizer Skill Level : Novice
Prep : 10 mins Cook : 10 mins Ready in : 20 mins Serves : 4

---
INGREDIENTS:
2 tbsp Butter
½ Medium Onion (sliced)
1 tsp Chopped Garlic
200g Fresh Spinach
200ml Whipping Cream
2 tbsp Maggi Concentrated Chicken Stock
Salt (to taste)
½ tsp Coarse Ground Black Pepper
Cornstarch (for thickening)
100g Parmesan Cheese
Nacho Chips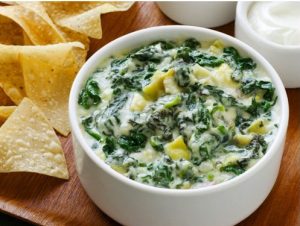 DIRECTIONS:
Melt butter in sauce pan, sauté onions and garlic till fragrant. Add the fresh spinach and cook until wilted
Pour in the cream and concentrated chicken stock. Season the dip with salt to taste and add the coarse ground black pepper
Thicken the dip slightly with cornstarch and add the Parmesan cheese. Serve dip with nacho chips.