Creamy and oh-so-good, this recipe will keep you coming back for seconds. 
Cuisine : American Course : Appetizer Skill Level : Novice
Prep : 5 mins Cook : 20 mins Ready in : 25 mins Serves : 3

---
INGREDIENTS:
1 Onion, sliced
4 Fresh mushrooms, sliced
½ can Button mushroom, halved
1 Potato diced
2 cups Liquid chicken stock
½ cup Cream
¼ cup Butter (salted or unsalted doesn't matter)
1 Bay leaf
¼ cup Butter
4 tablespoons Plain flour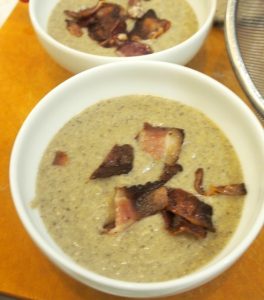 DIRECTIONS:
In a pot, place the butter and melt on medium heat.
Once the butter has melted, add the onions and bay leaf. Sauté till the onions go transparent.
Add the fresh mushroom and brown it. Add in the button mushroom and potatoes. Coat with butter for about 3 minutes.
Add the chicken stock and allow the liquid to simmer for at least half an hour on low heat.
While the soup is simmering, place ¼ cup butter into a small saucepan to melt on low heat. .
Add the plain flour into the small saucepan and combine with the butter. Keep stirring this paste till it turns slightly golden brown. (Make sure you do this on LOW heat)
Add the cream to the mushroom soup and bring it to a simmer. (Do not boil it) for about 10 minutes.
Remove the bay leave and use a stick blender to blend it smooth.
Add half the prepared flour paste to the soup and stir. Bring the mushroom soup back to the heat (low). If it is not thick enough, add more of the flour mixture till you get the right consistency.
Add salt and pepper to taste and serve.