These easy-to-make hot Buffalo wings are crispy and flavourful – always yummy to snack on! Serve it with Blue Cheese Sauce for a mouth-watering appetizer!
Cuisine : American Course : Appetizer Skill Level : Novice
Prep : 5 mins Cook : 20 mins Ready in : 25 mins Serves : 4

---
INGREDIENTS:
½ kg Chicken winglets/drumlets
1 tbsp Cayenne
1 tsp Crushed red pepper flakes
1 tbsp Garlic powder
1 tbsp Onion powder
½ cup Hot sauce
¼ cup Brown sugar
Butter
Salt & pepper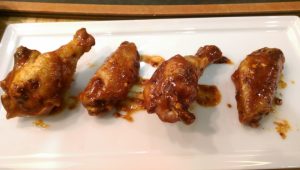 DIRECTIONS:
Fill a steamer tray and steam the chicken pieces for 10 mins and allow the wings to cool on a cooling rack and dry them with kitchen towels.
Start a deep fryer and fry the chicken until crisp.
For buffalo sauce, get a separate saucepan and add butter. When melted, add hot sauce, cayenne, garlic powder, onion powder and brown sugar. Heat for 5 minutes until the sauce is fully incorporated. ***Do not over heat!
Toss wings with buffalo sauce.