This stuffing has chicken, mushrooms and chestnuts seasoned with salt and pepper. The stuffing is then steamed and is sliced before serving. Alternatively, it can be stuffed into the christmas turkey.
Cuisine : American Course : Condiment Skill Level : Novice
Prep : 20 mins Cook : 20 mins Ready in : 40 mins Serves : 15

---
INGREDIENTS:
200g Chicken Breast Meat (skinless, diced)
125ml Whipping Cream
1 Egg White
1 tsp Salt
1 tsp Coarse Black Pepper
10g Dried Chinese Mushrooms (soaked, diced)
60g Roasted Chestnuts (diced)
1 stalk of Fresh Rosemary (chopped)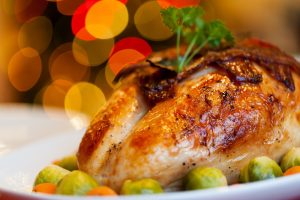 DIRECTIONS:
Blend the chicken meat with the cream. Thin out with some egg whites if necessary. Season the chicken meat with salt and the pepper.
Mix the mushrooms and chestnuts with the blended chicken meat.
On a working top, spread a sheet of cling wrap and place a portion of the stuffing on top. Spread out and roll up the plastic like a sausage. Secure both ends and wrap around with aluminum foil.

Steam the stuffing for 20 minutes until cooked. Allow to rest for 10 minutes before slicing.