Learn to make these delicious fried five spice pork rolls and snack on it throughout the day without having to worry about the calories!
Cuisine : Asian Course : Appetizer  Skill Level : Novice
Prep : 10 mins Cook : 30 mins Ready in : 40 mins Serves : 4 servings
---
INGREDIENTS             
As needed Dried Bean Curd Skin cut into 6 sheets of 18×18cm
1 tbsp Egg White
As needed Bread Crumbs or Biscuit Crumbs
As needed Cooking Oil
1 tbsp Corn Flour
NGOH HIANG
150g Minced Pork
150g Prawns, shelled, deveined and minced
½ Onion, peeled and chopped
4 Water Chestnuts, peeled and chopped
100g Cabbage, shredded
½ Carrot, shredded
SEASONINGS
1 tsp Light Soy Sauce
3 drops Dark Soy Sauce
1 tbsp Oyster Sauce
½ tsp Ground White Pepper
½ tsp Five-spice Powder
1/8 tsp

Salt

½ tsp

Sugar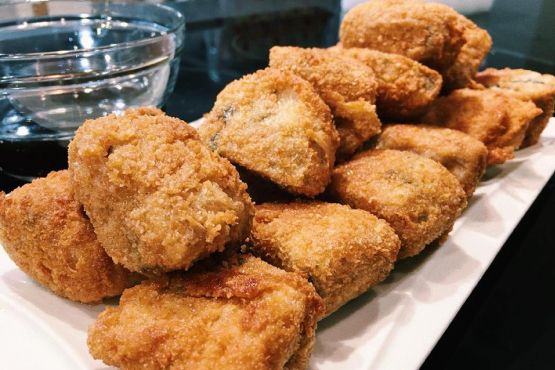 DIRECTIONS:
In a large bowl, combine ngoh hiang ingredients and mix well.
 Add seasoning and mix well.
Spoon mixture onto a sheet of beancurd skin. Fold in the two sides and roll up tightly. Repeat until mixture is used up.
Place in steamer and steam for 10mins.
Remove from steamer and coat ngoh hiang with egg white and bread OR biscuit crumbs.
Heat oil in a pan over medium heat and deep fry ngoh hiang until brown.
Remove from heat and drain oil before transferring ngoh hiang to a plate lined with absorbent paper towels. Set aside to cool.
When cool enough to handle, divide the 6 rolls of ngoh hiang into serving portions and serve with chilli sauce and sweet sauce.