Orange Salad with Dried Fruits, Orange Blossom and Pistachios
by Chef Susanne Despature
You're gonna love this light and refreshing zesty Orange Salad with dried fruits that is drizzled with Orange Blossom Syrup!
Cuisine: European Course : Appetizer  Skill Level : Novice
Prep :  10 mins Cook : 5 mins Ready in : 15 mins  Serves : 4 Servings
---
INGREDIENTS             
Orange Blossom Syrup

10cl Freshly squeezed Orange Juice
2 tbsp Orange Blossom Water
1-2 tbsp Caster Sugar
1 stick Cinnamon

Orange Salad

4-5 Oranges, Navel without seeds
10cl Orange Blossom Syrup
2 Dates, seed removed, finely sliced
30g Green Pistachios, coarsely chopped
Fresh Mint, Cinnamon, Icing Sugar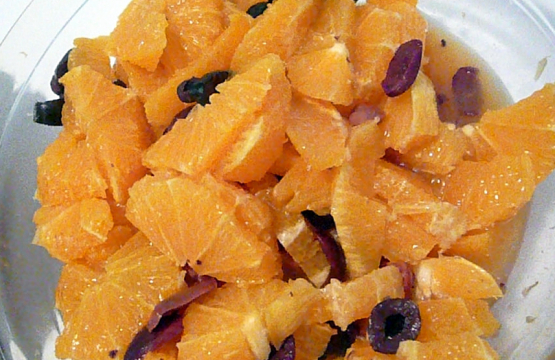 DIRECTIONS TO ORANGE BLOSSOM SYRUP
Bring all the ingredients to a boil in a small saucepan.
Let simmer for 3-4 minutes, until the sugar has dissolved completely.
Transfer to a small bowl and let cool out.
DIRECTIONS TO ORANGE SALAD
Peel the oranges and cut into 5 mm slices.
Arrange in a bowl with fine slices of dates and freshly chopped mint.
Pour the orange blossom syrup over the fruit salad and sprinkle with coarsely chopped pistachios, a little bit of ground cinnamon and icing sugar.
Decorate with mint sprigs.
Serve fresh with passion fruit sorbet or ice cream.