Warm Baby Potatoes, Fine French Bean Salad with Shallot Vinaigrette
by Chef Emma Coultas
Begin your meal with a crispy bruschetta topped with tomato and mozzarella salad drizzled with extra virgin olive oil.
Cuisine : European  Course : Appetizer  Skill Level : Novice
Prep : 10 mins Cook : 10 mins Ready in : 20 mins  Serves : 4 Servings
---
INGREDIENTS             
400g Baby Potatoes, scrubbed, and halved if large
250g Fine French beans, topped and tailed
1 Small shallot, finely chopped
3 tbsp Red Wine Vingear
1 tsp Dijon Mustard
½ – 1 tsp Salt
6 tbsp Canola Oil
1 tsp Chopped Flat Leaf Parsley
½ tsp Chopped Thyme
Pepper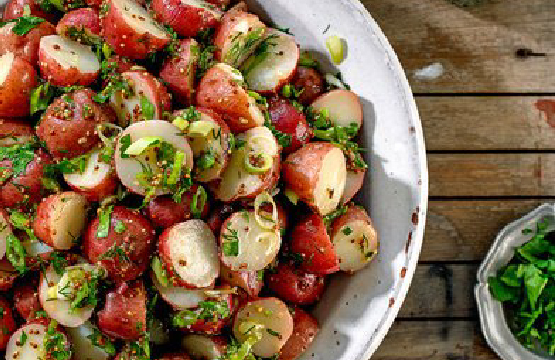 DIRECTIONS
Bring a pot of well-salted water to a rapid boil. As it is coming to a boil, add the baby potatoes and boil until just tender; lift out with a slotted spoon and place in a large bowl. Prepare another smaller bowl with some ice water. Place green beans in boiling water for one minute, drain and plunge into ice water for a minute. Drain and add to boiled potatoes.
While the potatoes boil, place the shallot, vinegar, mustard and salt in a bowl and whisk to combine. Slowly start adding oil in a drizzle while still whisking. When all the oil has been added, add the herbs and pepper and whisk to combine. Taste and adjust as needed.
Add dressing to warm potatoes and beans and toss well. Can be served immediately but improves on sitting for 15-30 minutes.