Homemade Chicken Nuggets with Lemon Mayonnaise Dip
by Chef Susanne Despature
What are your favourite chicken recipes? Chicken Nuggets always takes the cake in that case. Everyone loves store bought Chicken Nuggets, but wait till you try your very own Homemade Chicken Nuggets with Lemon Mayonnaise Dip. Say bye to store-bought Chicken Nuggets!
Cuisine : Western Course : Appetizer  Skill Level : Novice
Prep : 20 mins Cook : 30 mins Ready in : 50 mins  Serves : 4 servings
---
INGREDIENTS             
Nuggets

400g Chicken Breast
1 Egg White, slightly beaten
100g Panko (Japanese bread crumbs)
1 tsp Mild Curry Powder
1 tsp Salt
1 tsp Pepper
1 tsp Grape Seed Oil
Lemon Mayonnaise Dip

1 Egg Yolk
1 tsp Dijon Mustard
1/2 Lemon, juice
3/4 cup Sunflower Oil
1 Organic Lemon, zest
1 tsp Dijon Mustard with seeds
1 tbsp Sour Cream
1 tbsp Tabasco
1 tbsp Salt
1 tbsp Pepper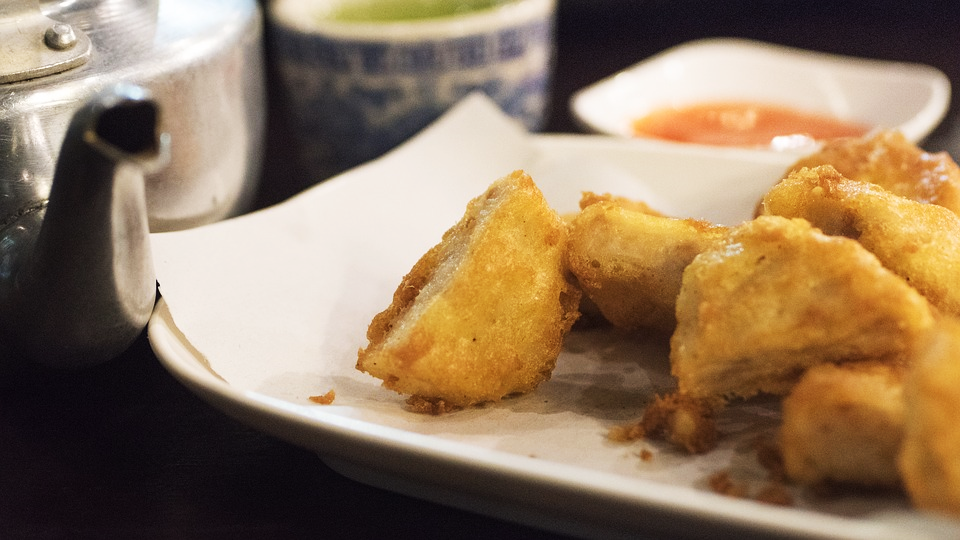 DIRECTIONS
Nuggets
Cut the chicken breast in 4-6 chunks.
In a small bowl, combine egg white with curry powder, salt and pepper.
Add the panko (breadcrumbs) in another bowl.
Dip the chicken chunks in the beaten egg white, then press into the breadcrumbs.
Place the nuggets on a plate.
In a large skillet, heat the oil, and then cook the nuggets in batches until they are golden brown and crisp. Place them on a plate covered with kitchen towels and place in the oven at 80°C.
Lemon Mayonnaise Dip
Prepare the mayonnaise: Whisk together yolk, mustard, lemon juice and ¾ tbsp salt until combined well.
Add about ¼ cup oil, drop by drop, whisking constantly until mixture begins to thicken.
Add remaining ½ cup of oil in a very slow, thin stream, whisking constantly until well blended. If at any time it appears that oil is not being incorporated, stop adding oil and whisk mixture vigorously until smooth, then continue adding oil.
Add the lemon zest, Dijon mustard with seeds and sour cream – mix well. Season to taste with salt/pepper/tabasco. Chill, surface covered with plastic wrap, until ready to use.