Breakfast sliders just the perfect food to have! This recipe was made using the Bruno Takoyaki Hotplate that makes the job of cooking, easy for you! of Have a quick bite of this dish and head out to start your day!
Cuisine : Asian  Course : Appetizer  Skill Level : Novice
Prep : 20 mins Cook : 25 mins Ready in : 45 mins  Serves : 6 servings
---
INGREDIENTS             
Turkey Patty Mixture

300g Minced Turkey Breast
25g Breadcrumbs
45g Milk
1 clove Garlic, grated
1-2 sprigs Fresh Thyme
1/8 tsp Smoked Paprika
1 tsp Oil
Salt (to taste)
Ground Black Pepper (to taste)
Savoury Fluffy Pancake

180g Self-raising Flour
5g Salt
10g Sugar
1/8 tsp Ground Black Pepper
150g Buttermilk or substitute with 100g Milk
1 tbsp Lemon
100g Milk
1 pc Large Egg
30g Olive Oil
20g Fresh Chives, chiffonade
Maple Mustard Sauce

1 tbsp Dijon Mustard
2 tsp Maple Syrup
Salt (to taste)
Ground Black Pepper (to taste)
Others

Quail Eggs
Cherry Tomatoes slices
Baby Spinach / Arugula / Lettuce
Grated Gruyere Cheese / Others
Toothpicks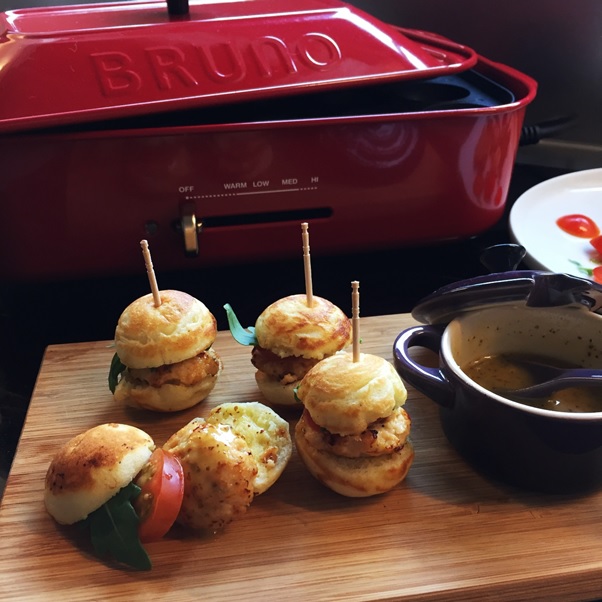 DIRECTIONS
Turkey Patty Mixture 
To make turkey patty, mix all ingredients and stir vigorously until sticky. Set aside.
Lightly grease and preheat Bruno Takoyaki Hotplate on low.
Place 1 tsp of turkey mixture each in 6 slots, and flatten.
Place a pinch of grated cheese on the turkey patty and eggs onto a plate.
Once cheese has melted, remove turkey patty and egg onto a plate.
Savoury Fluffy Pancake
Mix self-raising flour, salt, sugar and pepper in a large mixing bowl with a whisk.
In a separate bowl, whisk together buttermilk, milk, egg, olive oil.
Create a well in the flour mixture, gradually pour in the milk mixture, whisk outwards to moisten the flour until it be takes on a thick gloopy consistency.
Transfer into a squeeze bottle, and set aside to rest. (Optional)
Fill the next 12 slots with pancake batter until almost full.
Turn the heat up to low-med.
Flip the pancake slots when bubbles start forming on the surface to make balls.
Remove the pancake balls when they are done, and cut in half to make buns for sliders.
Maple Syrup Mustard
To prepare maple-mustard sauce, mix all ingredients together. Set aside.
Assemble
Crack quail's eggs into the remaining 6 slots and let it cook.
To assemble mini sliders, stack in in this order – pancake, maple-mustard, turkey patty / quail egg (cheese side up), tomato slice, baby spinach, maple-mustard, pancake.
And poke in toothpick to hold.
Repeat to make the rest.
Serve as a snack or perfect finger food.
Enjoy!
FOOD NOTES
Turkey patty mixture can be made in advance and stored in the fridge (up to 48 hours).
Turkey patty recipe can also be used to make meatballs, simply place 1 tbsp of mince into each slot of Bruno Takoyaki Hotplate.
Flip constantly until meatballs are brown and cooked through.
Pancake recipe can be adapted to make them sweet, simply increase sugar to 15g, reduce salt to a pinch, and omit ground black pepper and chives.