These light, crunchy Zucchini & Haloumi fritters paired with a refreshing garlic lemon yogurt dip are absolutely delicious!
Cuisine: European Course: Appetizer Skill Level : Novice
Prep : 15 mins Cook : 10 mins Ready in : 25 mins  Serves : 4-6 Servings
---
INGREDIENTS                                          
1 medium Zucchini (Yellow or green), coarsely grated
100g Haloumi Cheese, finely grated/ chopped
1-2 tsp Lemon Zest/ juice
1 medium Red Onion, finely sliced
1 Garlic, minced
1 tbsp Italian parsley, finely chopped
1 Egg
1 tbsp Plain flour
2-3 tbsp Parmesan Cheese
Salt
Pepper
Olive Oil
Garlic Lemon Dip
Garlic, finely minced
1 tsp Lemon Zest/ juice
Pinch of salt
120ml Yogurt
Paprika powder (dusting)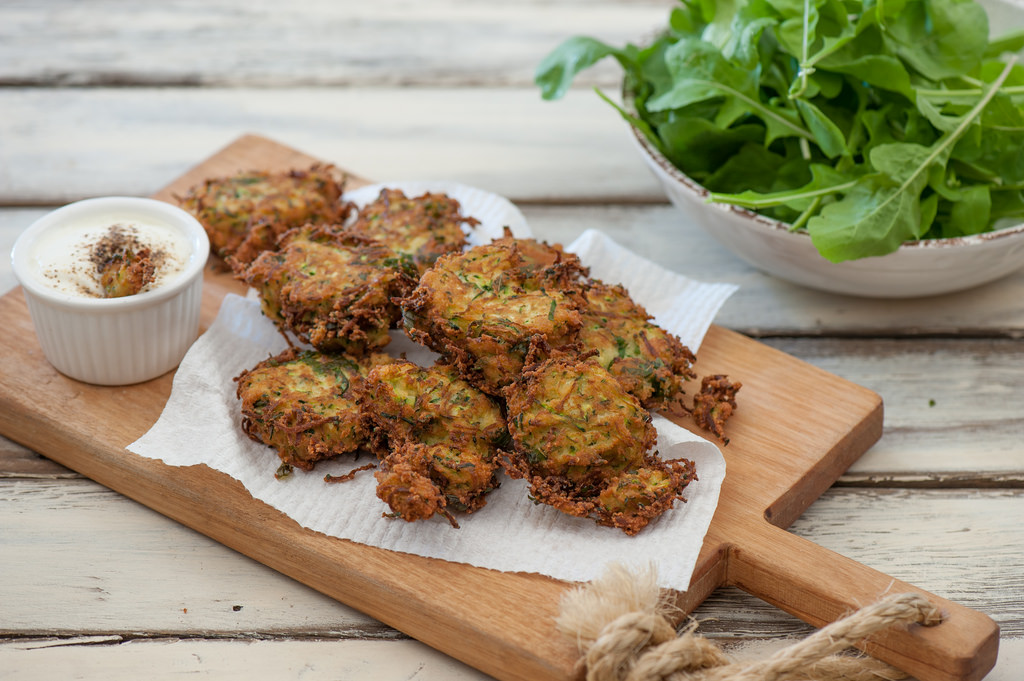 DIRECTIONS
Coarsely grate the zucchini and sprinkle some salt.
Set aside to rest. Then squeeze excess water.
Add chopped Haloumi cheese, lemon juice, salt, pepper, Italian parsley, garlic and egg.
Add in the plain flour. The final result of the mixture should be moist.
Heat 2 tbsp of oil in a non-stick frying pan over medium heat; add in a spoonful of zucchini mixture into the pan.
Fry until golden brown on each side, about 5-6minutes.
DIRECTIONS FOR GARLIC LEMON DIP
In a small bowl, mix the garlic and lemon into the yogurt.
Dust some paprika powder before serving.
Keep chilled.