You can never go wrong with a delicious Cream Puff Bread! Though it might take some time, the finished product is worth all the effort.
Cuisine : European Course : Dessert  Skill Level : Novice
Prep : 2 h 20 mins Cook : 1 h 20 mins Ready in : 3 h 40 mins  Serves : 5 – 10 Cream Puff Breads
---
INGREDIENTS             
Dough

GROUP A

125g Meiji Mike
175g Chilled Water
60g Sugar
5g Instant Yeast

GROUP B

500g Blue Jacket Bread Flour
15g Full Cream Milk Powder

GROUP C 
GROUP D
 Puff

100g Water
100g Un-salted Butter
100g Blue Jacket Cake Flour
3 Eggs
Chantilly Butter Cream 

120g Un-salted Butter, room temperature
40g Icing Sugar
20g Whipped Cream, chilled
120g Full Cream Milk Powder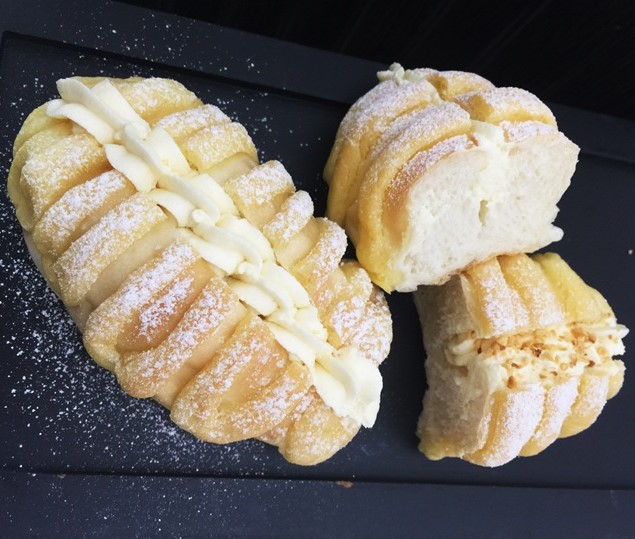 DIRECTIONS
Dough
Using the AO mixer fitted the stainless steel bowl with a dough roller, load the ingredient (A) together and turn on the machine, let all the particles are dissolved.
Combine the ingredient (B) into the (A), and then add the (C) once become a dough, turn to mid-high speed knead and set timing for 10 minutes or till the dough with well surface.
Add in the (D) and turn to mid-high speed knead for another 8mins, till the dough achieve well gluten.
Let the dough ferment for about 40mins (or double size of the dough)
Divide the dough to 50g each then roughly shape into balls and let it rest for 20-30mins.
On the work surface, use the rolling pin gentle roll the dough into an oval shape, and roll it up to an olive shape, then place it on the baking tray for final proof about 60-80mins.
Preheat the oven to 180'C, and bake at 180'C for 20 mins.
Puff                                                                                                                            
Put the water and un-salted butter into a cooking bowl, cook till boiled then turn off the fire.
Add in the cake four mix it well.
Slowly add in the egg one by one, mix it till thick.
Pack into to a pastry bag and pipe it on each bread once the final proof completed.
Chantilly Buttercream
Combine the icing sugar and the room temperature unsalted butter into the mixing bowl, whip it till smooth.
Add in the whipping cream and beat the mixture until creamy and smooth.
Pull in the full cream milk powder and mix until well combined.
Pack into to a pastry bag and pipe the filling into each bread.
Final Method
Make a cut in the center of the bread and pipe in the Chantilly butter cream.
Sieve the icing sugar on top of the bread.
Add on some berries or nuts for decoration.