Begin your meal with a crispy bruschetta topped with tomato and mozzarella salad drizzled with extra virgin olive oil.
Cuisine : European  Course : Appetizer  Skill Level : Novice
Prep : 15 mins Cook : 0 mins Ready in : 15 mins  Serves : 2 Servings
---
INGREDIENTS             
10 no Cherry Tomatoes, halves
10 pc Black/Green Olives
2 tsp Garlic
100g Buffalo Mozzarella
Baguette
Dried Herbs
Salt and Pepper
Virgin Olive Oil
Fresh Basil Leaves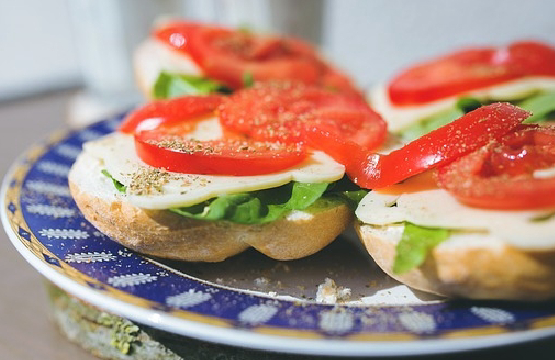 DIRECTIONS
Place the tomatoes previously halved in a bowl, add some black/green olives, dried herbs, virgin olive oil and a pinch of salt.
Mix well to blend all the flavours.
Cut 2 cm slices of bread and rub some minced garlic on the bread and some olive oil, lightly toast them in the oven until they are golden brown on both sides.
When they are ready, top with mozzarella and cover each slice with the mixture. Sprinkle the bruschetta with a little extra virgin olive oil and serve.