Traditionally served as a cold appetizer, this Drunken Chicken with Shaoxing Wine Granita is packed with flavours and simple-to-make.
Cuisine : Asian  Course : Appetizer  Skill Level : Novice
Prep : 8h 30 mins Cook : 10 mins Ready in : 8h 40 mins  Serves : 4 servings
---
INGREDIENTS             
2 whole Boneless Chicken Legs
½ tsp Salt
4 slices Old Ginger
2 stalks Spring Onion
Granita
8-10pcs Ice Cubes
1 tbsp Concentrated Chicken Stock
3 tbsps Shaoxing Huatiao Wine
Garnish
Wolfberries, soaked in Shaoxing wine
Spring Onions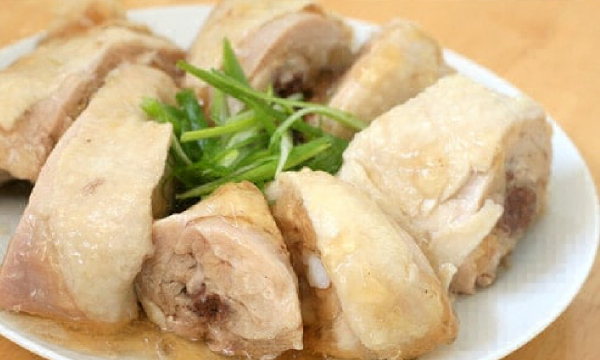 DIRECTIONS       
On the thicker cuts of the chicken leg, make half slits to level the whole piece of meat. Season chicken with salt and place on a piece of cling wrap.
Place 2 slices of ginger and 1 stalk of spring onion with each piece of chicken. Roll up and tie both ends of the plastic securely.
Double wrap with aluminum foil and transfer to pressure cooker. Fill with water till the rolls are covered. Cover cooker with lid, lock and bring to cooking pressure on the 2nd green ring for 10mins. Remove from heat and release pressure.
Allow chicken to cool completely before chilling overnight in fridge.
Slice the chilled chicken rolls and arrange on serving plate.
In a juicy cup blender, combine ingredients for granita and process until well blended.
Spoon the blended mix on the chicken rolls and serve with wine soaked wolfberries.