Beef Wellington – A Gordan Ramsay's classic is a show-stopping dish that encases beef fillet in mushroom stuffing, parma ham and puff pastry.
Cuisine: European Course : Mains Skill Level : Novice
Prep : 9hrs Cook : 27-32 mins Ready in : 9 hrs 27-32 mins Serves : 1 Serving
---
INGREDIENTS
1 Beef Fillet
Olive Oil, for frying
150g Mixture of Mushrooms
Thyme
1 Sheet Puff Pastry
2-3 Slices Parma Ham
1 Egg Yolk, beaten
A pinch of Salt
Sea Salt and Freshly Ground Black Pepper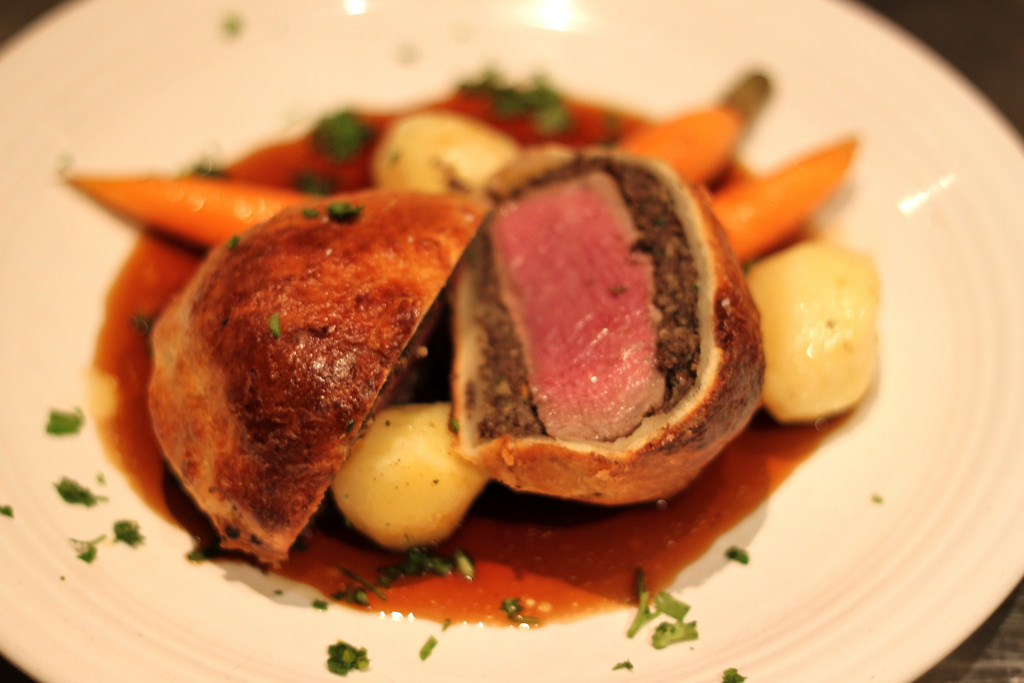 DIRECTIONS:        
Wrap each piece of beef tightly in a triple layer of cling film to set its shape, then chill overnight.
Remove the cling film, then quickly sear the beef fillets in a hot pan with a little olive oil for 30-60 seconds until browned all over and rare in the middle. Remove from the pan and leave to cool.
Finely chop to release their juices, continue to cook over a high heat for about 10 minutes until all the excess moisture has evaporated and you are left with a mushroom paste. Remove from the pan and leave to the mushrooms and fry in a hot pan with a little olive oil, the thyme leaves and some seasoning. When the mushrooms begin cool.
Lay a large sheet of cling film on a work surface and place 4 slices of Parma ham in the middle, overlapping them slightly, to create a square. Spread half the duxelle evenly over the ham.
Season the beef fillets, then place onto the mushroom-covered ham then on top of a precooked puff pastry. Using the cling film, roll the Parma ham over the beef, then roll and tie the cling film to get a nice, evenly thick log. Then chill for at least 20 minutes.
Brush the pastry with the egg wash. Remove the cling film from the beef, then wrap the pastry around each ham-wrapped fillet. Trim the pastry and brush all over with the egg wash. Cover with cling film and chill for at least 20 minutes.
When you are ready to cook the beef wellingtons, score the pastry lightly and brush with the egg wash again, then bake at 200°C for 15-20 minutes until the pastry is golden brown and cooked. Rest for at least 10 minutes before carving.