Roasted Chicken with Grilled Vegetables, Stuffing and Truffles
by Jimmy Chok
This recipe adds a touch of luxury to roast chicken with shaved truffles and delicious stuffing made from homemade toasted chestnuts, juicy mushrooms and fresh parsley.
Cuisine : European Course : Main Skill Level : Novice
Prep : 20 mins Cook : 60 mins Ready in : 8 mins Serves : 6-8 Servings
---
INGREDIENTS:
1 Whole Chicken (2kg Plus)
Salt/ Pepper Taste
2 tbsp Italian Mix Herbs
2 tbsp Soft Butter
Grilled Vegetables

20pcs Asparagus
20pcs Baby Carrots
1 Zucchini – Sliced
20pcs Shitake Mushroom
Salt/Pepper Taste
Dash of Olive Oi

Stuffing

300g Ciabatta Bread – Cubes
300g Toasted Chestnuts
100ml Olive Oil
200g Saute Button Mushroom
1 tbsp Chopped Parsley
Salt/Pepper Taste

500ml Red Wine Sauce
2/3 pcs Truffles – To be shaved on dish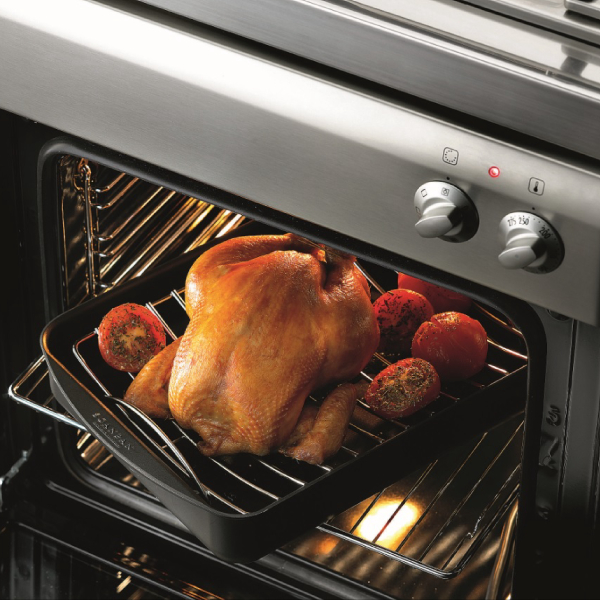 DIRECTIONS 
Rub chicken with soft butter and season well.
Roast in oven at 180C for about 50 minutes and allow to rest.
Season vegetables well and grill over medium heated grill pan.
Mix stuffing ingredients together and season well, pour on tray and heat in over for 10 minutes before serving.
When all items are ready, serve chicken with grilled vegetables, stuffing and red wine sauce.
Shave truffles.