Tartufo, an Italian frozen dessert made with your choice of ice cream and covered in melted chocolate. It's an Italian Ice Cream Truffle!
Cuisine : European Course : Dessert Skill Level : Novice
Prep : 8hrs  Cook : 10 mins Ready in : 9 hrs  Serves : 4 Servings
---
INGREDIENTS:
Vanilla ice cream
Oreo cookies
120g Chocolate
80g Butter
½ Cream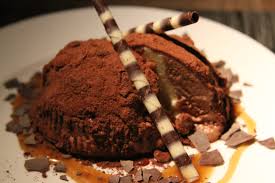 DIRECTIONS 
To make the tartufo: Scoop portions of vanilla and form into balls using your hands. Poke a hole in each ball and place 1 oreo cookie in each, cover with ice cream, and place on a baking sheet. Freeze overnight.
Melt chocolate and butter in a Bain Marie, then stir in warmed cream. Set aside to cool.
Roll gelato balls in the Oreo crumbs and then chocolate ganache until coated and return to the freezer until ready to serve.