T-Bone Steak with Parsnip Puree, Carrots, and Seasonal Greens
by Michele Ow
Savour a piece of juicy and flavourful T-Bone Steak seasoned with rosemary, pepper and served with Parsnip Puree, Carrots and Seasonal Greens for dinner.
Cuisine : European Course : Main Skill Level : Novice
Prep : 10 mins Cook : 3 hrs 50 mins Ready in : 4 hrs mins Serves : 2 Servings
---
INGREDIENTS:
T-Bone Steak

400g T-bone steaks
½ tsp Crushed pepper
2 twigs each of Rosemary and/or thyme
1 tbsp Olive oil
30g Butter

Carrots

2 tbsp (30g) Unsalted butter
1 tbsp (12g) Granulated sugar
Kosher salt
Freshly ground black pepper
1 tbsp Chopped parsley

Parsnip Puree

1 Large parsnips, peeled and sliced into large cubes
25g Unsalted butter
¼ cup Cream

Seasonal Greens

2 bunches Asparagus, woody ends trimmed
4 Fresh eggs
25g Finely grated parmesan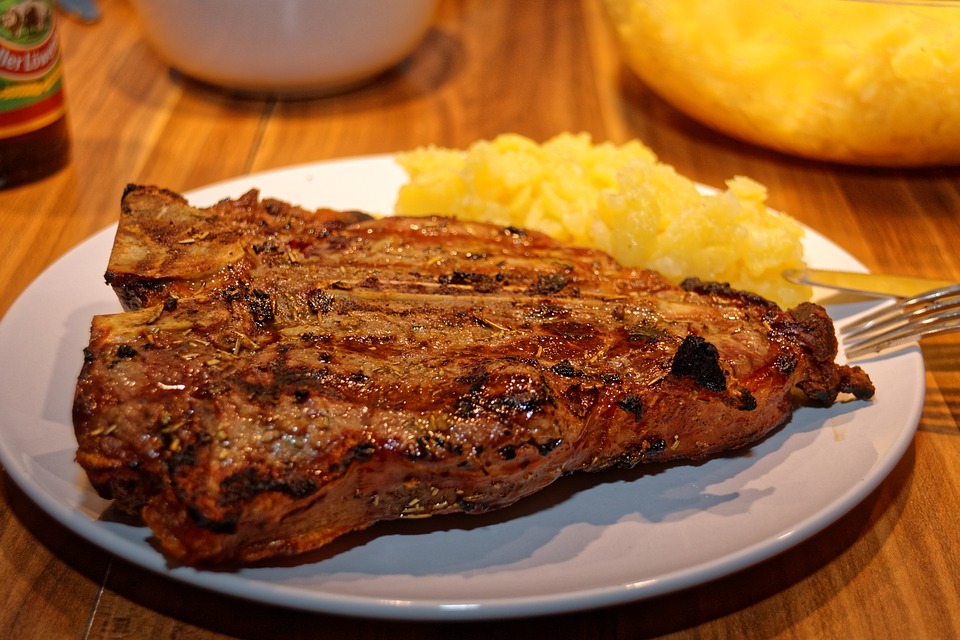 DIRECTIONS FOR T-BONE STEAK
Vacuum each steak with the ingredients and cook in the sous vide at 56 °C for 90 minutes.
When cooked, pat dry and sear.
DIRECTIONS FOR CARROTS
Place carrots, butter, sugar, and ½ teaspoon kosher salt in a vacuum bag.
Place carrots in the sous vide for 1 hour at 85C.
Empty entire contents of bag into a 12-inch, heavy-bottomed skillet and cook over high heat, stirring constantly, until liquid has reduced to a shiny glaze, about 2 minutes.
Season to taste with salt and pepper, stir in parsley, and serve.
DIRECTIONS FOR PARSNIP PUREE
Combine all ingredients in a large zipper lock or vacuum seal bag. Seal the bag using the water immersion technique water bath at 85C and set the timer for 1 hour.
When the time is up, transfer the entire contents of the bag to a blender or food processor. Purée until smooth.
Season to taste with nutmeg, salt and pepper. Serve.
DIRECTIONS FOR SEASONAL GREENS                  
Sous vide asparagus for 5m @ 85C.
Sous vide eggs for 60m @ 60C.
Serve egg and grate parmesan over asparagus.