This Christmas enjoy a Turkey Roulade with Chef Desmond's recipe! 'Roulading' the turkey ensures that the meat is juicy, flavourful and makes it look worthy of being on a restaurant menu!
Cuisine : European Course : Main Skill Level : Novice
Prep : 1 hr 10 mins Cook : 1 hr 30 mins Ready in : 2 hr 40 mins Serves : 6-8 Servings
---
INGREDIENTS:
Turkey Roulade

1x 2 kg turkey breast
4x pork sausages, castings removed
1/2 cup pistachios, roughly chopped
1/2 cup dried cranberries
8 sage leaves, finely chopped
6 slices prosciutto
5 sage leaves, to garnish

Cranberry Reduction

1 cup dried cranberries
1/2 cup port
1/2 cup chicken stock
2 tablespoons unsalted butter
1/2 teaspoon sea salt
1/2 teaspoon black pepper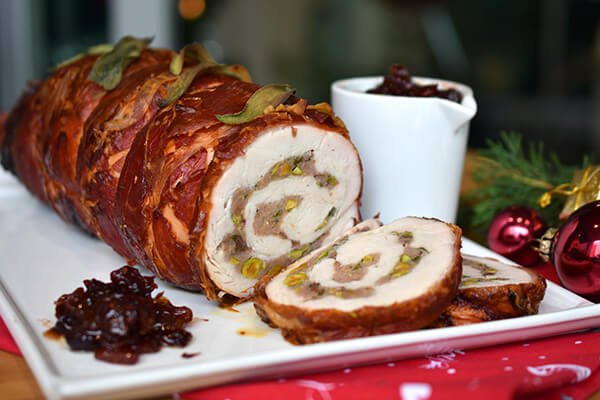 DIRECTIONS 
Butterfly the turkey breast. Cover with plastic wrap and pound to a 1.5 cm thickness. In a bowl, combine the pork sausages, pistachios, dried cranberries and finely chopped sage leaves.
Spread the sausage mixture over the turkey breast and tightly roll into an even cylindrical shape. Lay the prosciutto over the rolled turkey breast. Tightly wrap the rolled turkey breast in plastic wrap and refrigerate for one hour.
After one hour, set up your barbecue for indirect cooking. Preheat your barbecue for roasting. Please refer to your handbook for further instructions.
Remove the turkey roll from the refrigerator and discard the plastic wrap. Secure the turkey roulade with string.
Once the barbecue has preheated, adjust the burner(s) to the roasting setting. Place the turkey roulade on the barbecue. Cook for 40 minutes and place the 5 sage leaves on top of the turkey roulade. Continue to cook the turkey for an additional 10 to 20 minutes, or until the cooked through.
While the turkey is cooking, make the cranberry reduction. On a side burner or stovetop, simmer the cranberries, port and chicken stock for 10 minutes or until reduced, stirring as required. Add the butter and continue to cook for a further 2 minutes. Remove from the heat and season with salt and pepper.
Once the turkey has cooked, remove from the barbecue and allow to rest for 10 minutes.
Once rested, slice the turkey and serve with the cranberry reduction.