This No Bake Onde Onde Cheesecake is the perfect dessert for your friends and family this Hari Raya! 😉
Cuisine : Fusion Course : Dessert  Skill Level : Novice
Prep : 30 mins Cook : 5 mins Ready in : 215 mins  Serves : 4 servings
---
INGREDIENTS             
600g Cream Cheese
280ml Heavy/Whipping Cream
100g Icing Sugar
250g Digestive Biscuits
100g Salted Butter
60ml Pandan Juice
3/4 cup Gula Melaka
1/3 cup Desiccated Coconut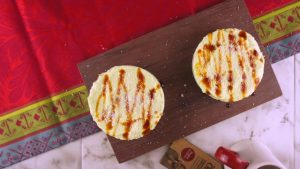 DIRECTIONS:
In a medium bowl, add melted butter to crushed Digestive Biscuits. Press firmly into bottom of your Jamie Oliver Non-Stick Mini Cake Tins, or a 9″ Non-Stick Springform Cake Tin.
In a medium bowl, add in cream cheese and half of the icing sugar. Whip till combined and fluffy, then fold in remaining cream cheese.
Divide into your cake tins and set in fridge for at least 3 hours.
Remove cake tins when ready to serve.
Melt gula melaka in a saucepan until syrupy.
Drizzle melted gula melaka over the cakes and sprinkle desiccated coconut.