Add a twist to regular meatballs! This recipe incorpoarates the use of veal mince and a combination of different herbs and spices that will complement the meat perfectly. Make this for a dinner today! 
Cuisine : European Course : Appetizer Skill Level : Novice
Prep : 30 mins Cook : 30 mins Ready in : 60 mins Serves : 4

---
INGREDIENTS:
250g Veal mince (or beef)
250g Pork mince
½ stalk Leek, washed well, finely chopped
6 cloves Garlic, peeled, finely chopped
Small bunch coriander stalks, finely chopped
1 tbsp Homemade onion jam (optional)
1 tsp Ground cumin
1 tsp Sweet paprika
½ – 1 tsp Dried chilli flakes
Cracked pepper
½ tsp Sugar
1 tsp Salt
1 tbsp Breadcrumbs

Sauce

700g Passata
¼ cup Red wine (optional)
½ tsp Dried oregano
Parmesan, freshly grated
400g Dried pasta or homemade pasta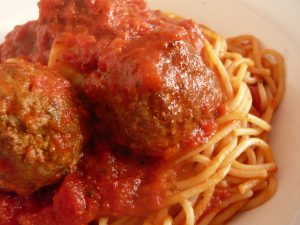 DIRECTIONS:
In a wide non-stick saucepan, fry the leek and garlic in some olive oil over medium heat until tender. Set aside to cool.
Mix together with all meatball ingredients. Knead lightly until well mixed. Make round meatballs the size of golf balls, you should get about 18 – 20. Set aside.
In the same pan, heat some olive oil over medium-high heat, add meatballs in a single layer and fry until nicely browned all over. Pour in passata, red wine and oregano. Fill the passata bottle with about ½ cup of water, cover, shake and pour into the saucepan. Lightly stir to avoid breaking up the meatballs. Cover and simmer for 20 minutes. Taste and adjust flavours with sugar and salt.
In the meantime, cook pasta according to instructions, drain and add to sauce. Toss through gently and serve with grated Parmesan, chopped parsley and extra chilli flakes.