Enjoy this perfectly balanced organic tomato gazpacho with a hint of spice and herbs by Chef Daniele Sarno.
Cuisine : European Course : Appetizer Skill Level : Novice
Prep : 20 mins Cook : 0 mins Ready in : 780 mins Serves : 1

---
INGREDIENTS:
100ml Vegetable stock
50g Tomato concasse
30g Diced green bell pepper
30g Diced red bell pepper
15g Onion, thinly sliced
20g Peeled, seeded, slice Japanese cucumber
15g Diced organic celery
1g Chopped basil
10ml Cold pressed extra virgin olive oil
10ml Aged Italian balsamic vinegar
Organic Cayenne pepper powder
Sea salt
Ground white pepper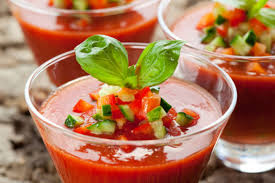 DIRECTIONS:
Combine all the ingredients except the garnish.
Puree with an immersion blender or in batches in a food processor until smooth.
Chill for 8 to 12 hours, allowing the flavours to develop.
To make a garnish, sauté the garlic clove in the olive oil until aromatic.
Add the bread, the cayenne pepper and sauté until crisp and lightly browned.
Thinly slice the tuna and quick marinate with few drops of aged balsamic vinegar.
Cool and reserve.