Learn to make the all-time favourite Quiche Lorraine filled with bacon, egg and cream cheese! 
Cuisine : Baking Course : Appetizer Skill Level : Novice
Prep : 15 mins Cook : 10 mins Ready in : 25 mins Serves : 4-6

---
INGREDIENTS:
Group A
170g Plain flour
1 pinch of Salt
85g Unsalted Butter
Group B
1 Egg
80g Bacon
50g Chopped Onion
Salt and Pepper
100g Egg
75g Dairy Cream
75g Milk
70g Cream Cheese
Salt and Pepper
Shredded Cheese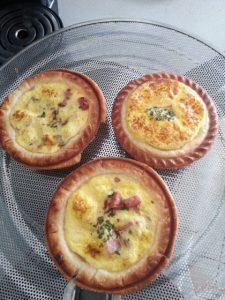 DIRECTIONS:
Rub group A (Plain flour, Salt, Unsalted Butter) together until resemble breadcrumbs.
Add in group B (Egg) and mix well into a dough are form.
Roll and line a 8 inch round tart case and chill until ready to use.
Place the bacon, chopped onion and some salt and pepper in the chilled tart case.
Mix the egg, dairy cream, milk, cream cheese, some salt and pepper and shredded cheese in a bowl. Pour the mixture in the tart case.
Bake at 190 degree Celsius for 30mins fan mode until golden brown.