Traditionally made from mackerel and other fish, Otak Otak is a grilled fish cake dish popular across South-East Asia. This recipe puts a twist on the familiar favourite by using prawns instead of fish, but is just as delicious as the original. 
Cuisine : Asian Course : Appetizer Skill Level : Novice
Prep : 30 mins Cook : 15 mins Ready in : 35 mins Serves : 4-5

---
INGREDIENTS:
Ingredients A
200g Prawns, shelled and de-veined
1pc Banana leaf
Ingredients B 
1 Egg
½ tsp Curry powder
½ tsp Tumeric powder
1 tbsp Rice flour
1 tbsp Corn flour/starch
1 tbsp Coconut cream or milk
½ tsp Salt
½ tbsp Sugar
Ingredients C: Otah Otah Spices
8 Shallots peeled
2 Candlenuts
2 Kaffir lime leaves finely snipped
1 stalk Lemongrass outer green leaves removed, sliced as thinly as possible
2 cloves Garlic peeled
½ tbsp Belacan paste
½ inch Galangal, sliced
5 Dried chillies soaked in water to soften & sliced
2 tbsp Vegetable oil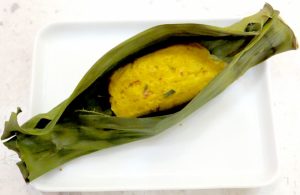 DIRECTIONS:
Cut the banana leaf into 7" x 4" pieces. Blanch in boiling water, pat dry and set aside.
Mix the prawn paste with ingredients B and C till it form into a paste.
Take a piece of banana leaf, add 1 tbsp of the prawn paste mixture and wrap it up. Repeat the same steps till mixture is used up.
Grill for 10 minutes or pan fry in hot wok without oil for 5-8 minutes on each side.