A crispy base filled with tangy citrus lemon curd and topped with fluffy meringue makes this a tart to die for!
Cuisine : Baking Course : Dessert Skill Level : Novice
Prep : 60 mins Cook : 40 mins
Ready in : 100 mins Serves : 6

---
INGREDIENTS:
50g Butter (Sable Dough)
420g Flour (Sable Dough)
160g Icing sugar (Sable Dough)
50g Almond Ground (Sable Dough)
5g Salt (Sable Dough)
85g Whole Eggs (approx 2 no) (Sable Dough)
4 Lemons Juice (Lemon Curd)
175g Sugar (Lemon Curd)
4 Whole eggs (Lemon Curd)
15g Corn flour (Lemon Curd)
2 Lemon zest (Lemon Curd)
110g Butter (Lemon Curd)
200g Egg whites (Meringue)
400g Sugar (Meringue)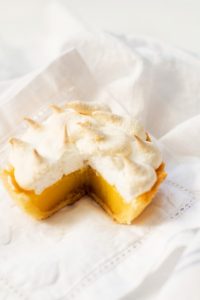 DIRECTIONS:
Sable Dough
Cut the butter into smaller cubes
Mix butter, flour, icing sugar, almond ground and salt in the mixing bowl.
Use a paddle beater and mix all. Add eggs. Do not over work the dough.
When mixture forms dough like consistency, wrap in a cling film and chill at least half hour before use.
Line tart moulds and bake at 160° for about 30-40 minutes.
Lemon Curd
Warm up lemon juice and sugar gently in a pot.
Whisk the whole eggs and corn flour together and sift.
Add lemon zest into the lemon juice mixture and allow it to boil.
When the mixture boils and forms a thick consistency, lower down the heat and whisk in the butter cubes.
Chill before use.
Meringue 
Boil the sugar to 116°c.
Add to the egg white; whisk till the egg white and sugar forms a thick stable meringue.
Ready to be piped.