Savour this aromatic Thai Pandan Chicken which is tender and packed with flavour! It is marinated and fried to perfection!
Cuisine : Asian Course : Appetizer Skill Level : Novice
Prep : 70 mins Cook : 10 mins Ready in : 80 mins Serves : 4-6

---
INGREDIENTS:
200g Chicken Thigh
1tbsp Oyster Sauce
1tbsp Soy Sauce
1tbsp Sugar
1tsp Pepper
1tbsp Sesame Oil
1/2 tbsp Coriander Root
1/2 tbsp Minced Garlic
Pandan Leaves, cleaned and ends trimmed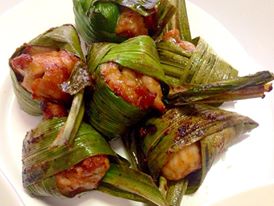 DIRECTIONS:
Cut chicken thigh into 1 inch pieces.
Marinate chicken with all ingredients. Set aside for 1-hour.
Wrap the marinated chicken with pandan leaves.
Put the chicken fried in medium heat oil. Drain dry and serve.