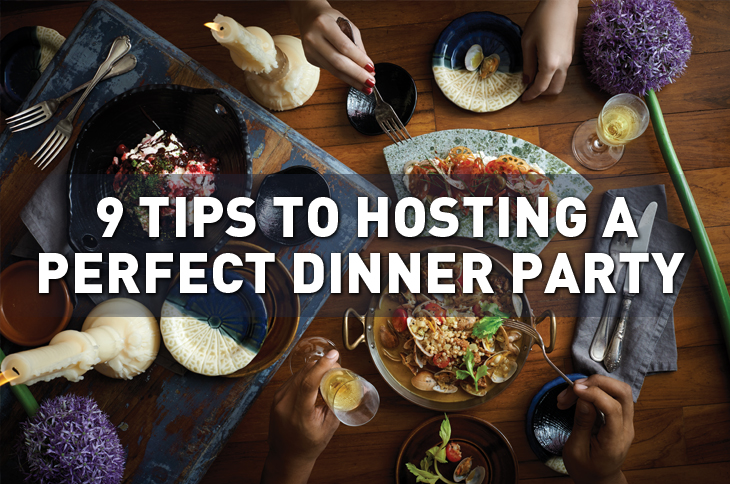 Hosting a large party is always fun, but there's something special about a more intimate, grown-up gathering. Inviting friends over for a dinner gathering or hosting that annual dinner party with your colleagues?  This is the perfect guide for you. We've prepared a list of pointers to keep in mind when throwing your next dinner party!

1. Invitation list

When hosting an intimate dinner party, it's essential to have an accurate guest count. We recommend sending out invitations at least two weeks in advance and requesting guests to RSVP no later than a week before the event. Grocery shopping becomes much easier when you have ample time to prep, plan your menu and portions!

2. Setting the right mood

A beautifully-set table is the canvas for a sumptuous meal. Fresh flowers make for a lovely centrepiece but for a more durable feature that also doubles as a conversation starter, try arranging an assortment of the Luminara Flameless Pillar Candles. The attractive realistic flameless candle will brighten your dining table instantly without the worry or risks associated with real candles.
Dine without the worry of food and wine stains on your table cloth when you use Garnier Thiebaut's 100% two-ply twisted cotton as the linen for all your dishes. Made in France, the fine damask fabric is made with a special Green Sweet stain-resistant technology to protect the cotton from stains and make your life happier! The classy and bespoke designs available also add an instant touch of elegance to your dining table.

3. Dining utensils
As a general rule of thumb, no matter the formality of the event, set the silverware on the table in the order that it will be used, from the outside in. Dessert utensils should always be placed horizontally above the plate, or brought in later together with the dessert.
For cutlery that is functional enough for everyday use and also elegant enough for an intimate dinner gathering, the Safico Harlan series will do a perfect job. The simplest table setting will be transformed by the sleek elegance of the Harlan series from Safico to impress even the more particular connoisseurs! The high gloss polished finish features a simple and sleek design that will also mix well with your existing flatware pieces. A full range of coordinating Harlan pieces is also available if you are inclined!

4. Shop smart

Always be ready to improvise your menu. Whenever you are doing your grocery shopping, be on the look-out for products that are on markdown or promotion – you never know what you might find!

5. Hors D'oeuvres (Party appetizers)

When your guests start streaming in, don't stress yourself if not all your dishes are complete. Having Hors D'oeuvres set out when guests arrive will give you some time to wrap up your cooking while they mingle and snack. An easy but delectable one would be to set a cheese platter with crackers and wine for guests to dive in before the actual dinner; even better if you have a visually appealing cheeseboard that could double as a beautiful centrepiece! If possible, place the platters at different spots around your living room/lounge area to prevent guests from crowding in one corner of the room.



8. Drinks

Keep things simple and classy by going for wine and one signature cocktail. The Magisso Champagne Cooler will ensure that your drinks will be kept cool and chilled through-out your dinner. You can even write or design a personal message on the side of the ceramics with a chalk! The award-winning range of Magisso products can be found here.

9. Relax and have fun!

Last but not least, remember to relax and enjoy yourself with your guests! Enjoy their company, the atmosphere and the spread that you've put all the effort into preparing. It's time to kick back and fun!
So, what's on the menu of your next dinner party?