This rack of lamb recipe by Chef Michele Ow is real showstopper, intensely flavoured with Thyme, Rosemary and English Parsley.
Cuisine : European Course : Main Skill Level : Novice
Prep : 15 mins Cook : 15 mins Ready in : 30 mins Serves : 2

---
INGREDIENTS:
4-6 Lamb ribs, frenched
A handful English Parsley
A handful Thyme
A handful Rosemary
200g Bread crumbs
Olive oil
1 tbsp Parmesan (shaved)
Mustard
Salt & pepper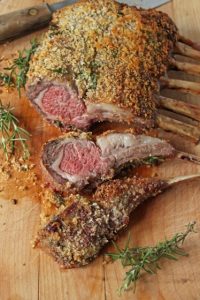 DIRECTIONS:
In a food processor, incorporate bread crumbs and herbs, and parmesan.
Score lamb top side in a criss-cross pattern.
Season lamb with salt and pepper on a plate.
Heat up a pan and add olive oil.
When pan is very hot, sear lamb on all sides.
Put lamb (side up) in oven for 6 minutes @ 180°C (on the same frying pan).
When lamb is removed from oven, brush mustard all over it.
Then in the same plate as before, pour your bread crumbs on it and coat your lamb with the bread crumbs.
Finish in oven for 3-5 minutes @ 200°C.
Allow to rest before cutting.