This delicious Crunchy Hazelnut Chocolate Tartlets is a perfect dessert for chocolate lovers!
Cuisine : Baking Course : Dessert Skill Level : Novice
Prep : 30 mins Cook : 15 mins Ready in : 45 mins Serves : 6

---
INGREDIENTS:
For the Chocolate Sable Tart Dough
150g Butter
250g Flour
12g Cocoa Powder
95g Icing Sugar
50g (approx. 1 no.) Whole Eggs
For the Crunchy Hazelnut Praline
250g Whole Hazelnuts (roasted)
100g Fine Sugar
30g Water
For the Chocolate Ganache
100g Whipping Cream (38% fat)
100g Chocolate Couverture
10g Liquid Glucose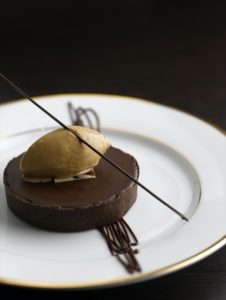 DIRECTIONS:
         For the Chocolate Sable Tart Dough
Cut the butter into smaller cubes.

Sift flour, cocoa powder and icing sugar in the mixing bowl.

Rub the butter into the dry ingredients till crumbly. Add egg and knead gently.

Do not over work the dough.

When mixture forms dough-like consistency, wrap in a cling film and chill at least half hour before use.

Line tart moulds and bake blind at 160°C-170°C for approximately 12-15 mins depending on the size of the moulds used.

Fill the bottom of the tartlets with hazelnut praline and fill the tarts with ganache. Chill.

For the Crunchy Hazelnut Praline

Place the sugar and water in a deep pot and boil the mixture till golden brown.

Add the hazelnut and stir till the caramel coated all of the nuts.

Pour onto a flat tray and leave to cool before blending the nuts coarsely in a food processor. Use as desired.

For the Chocolate Ganache

Warm the cream and glucose.
Gently add into chocolate couverture in 3 parts to emulsify.
Set aside and use as required.