This deceptively simple Pumpkin Soup with a hint of spice is perfect for any occasion!
Cuisine : European Course : Appetizer Skill Level : Novice
Prep : 10 mins Cook : 15 mins Ready in : 25 mins Serves : 6

---
INGREDIENTS:
500g Pumpkin, peeled, diced (kabucha and local variety)
Chopped tomatoes (can)
200g Big onion, diced
1 tbsp Grape seed oil
1 tbsp Chicken stock
300 – 400ml Coconut milk
100ml Garlic, chopped
2 cloves Lemongrass, sliced in two lenghtwise
1 stalk Chopped young ginger
1 tbsp Paprika powder
½ tsp Freshly grated nutmeg
1 pinch Chilli (or more if you like it hot!)
Pinch of Salt & pepper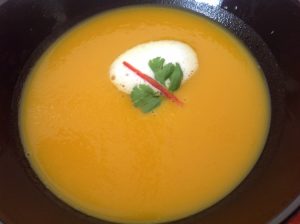 DIRECTIONS:
Fry diced onions in Cuisinart Blender for 1-2 minutes on lowest position (simmer) – press stir button from time to time. Add diced pumpkin, lemongrass, garlic and ginger and continue to fry for 1-2 more minutes. Add paprika powder, nutmeg, chilli; give a stir, than add chopped tomatoes, chicken stock and some of the coconut milk. The liquid should just cover the pumpkin.
Cover, then cook over low heat for about 15 minutes on medium position (low) or until the pumpkin is tender. Discard lemongrass stalk.
Turn button on position 2, in order to blend all the ingredients. If necessary, increase speed (3-4). Season to taste with salt and pepper; add coconut milk or chicken stock if the soup is too thick.
Bring to a boil on medium position. Ladle some soup in 6 bowls and serve with a drizzle of coconut milk, coriander oil and some coriander leaves.