With the Eid festival looming around the corner, there is always a good excuse to bake a cake. But then again, do you really need an occasion to savour a good cake? Baking a cake can be so simple, yet the results can be etched in your family's memories for years to come, after all they will remember the homemade cake better than shop bought anytime!
This chocolate mocha bundt cake makes use of the gorgeous spiral tin, and you really need very minimal decoration, as the design should be the masterpiece here. Melted chocolate drizzle is after all much healthier than sugary frosting. Bring it up a notch with fresh fruit like strawberries.
Cuisine : Baking Course : Dessert Skill Level : Novice
Prep : 15 mins Cook : 45 mins Ready in : 60 mins Serves : 12 

---
INGREDIENTS:
200g unsalted butter
180g castor sugar
1 tsp vanilla extract
4 large eggs, separated
¼ tsp cream of tartar
½ tsp baking soda
2 tbsp water
½ cup espresso
3 tbsp whole milk
200g cake flour
50g cocoa powder
½ tsp salt
150g melted dark chocolate
Fresh strawberries for garnish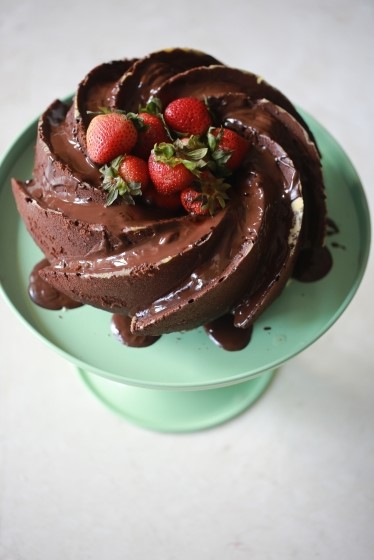 DIRECTIONS:
Preheat the oven to 170°C.
Cream the butter and sugar until pale and fluffy.
Add in the vanilla extract and egg yolks, beat for another minute.
Transfer the batter into a bowl.
In a glass combine the baking soda and water; it will be fizzy.
Add in the espresso, milk into the soda and combine well.
Sift the cake flour, cocoa and salt together, and add into the batter alternating with the espresso mix until all is mixed well.
Beat the egg whites with cream of tartar until stiff peaks are formed.
Fold gently into the cake batter.
Sprinkle some plain flour (or cake flour) onto the cake pan.
Pour the batter into the cake pan and bake for 45 minutes.
Once cake is cool, invert onto a cake stand or platter.
Drizzle the melted chocolate on top and garnish with strawberries.