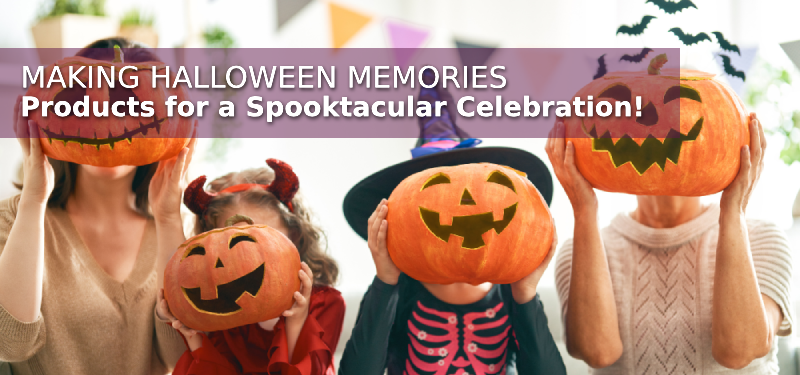 Enter the enchanting realm of Halloween, where thrills await at every turn. As the spooky season approaches, we've summoned a bewitching collection of products to transform your space into a haunting wonderland – from eerie décor to ghoulishly delightful baking pans. So, are you ready to impress your guests and make this Halloween a hauntingly good time?
When it comes to Halloween, there's no brand quite like Meri Meri to turn your space into an enchanting wonderland.
If you're inviting neighbours for a delightful trick-or-treat adventure, why not add a playful touch to your corridor with Meri Meri's Foil Hanging Bats and Hanging Honeycomb Spiders? Easily suspend them with the included metallic silver threads to welcome your guests with a whimsical Halloween spirit.
Planning a Halloween party but running short on time for food preparation? Transform ordinary treats into Halloween-themed delights with Meri Meri's Pumpkin Patch Party Picks and Cupcake Kit. Simply stick them into your dishes, and watch your culinary creations come to life with spookiness.
Make a statement at your Halloween gathering with Meri Meri's Ghost Plates and Witch Plates. These eerie plates, shaped like friendly ghosts and mischievous witches, add an extra layer of fun to your Halloween spread.
And don't forget the Pumpkin Napkins from Meri Meri to complete your Halloween festivities!
Serve your guests frightfully delicious desserts with the Nordic Ware Skulls and Tombstones Cakelet Pans! These supernaturally durable cakelet pans are made of rust and warp-resistant cast aluminium. Their uncanny nonstick interiors guarantee the skulls pop out of their moulds like zombies out of the tombstones, with their creepy features intact. The eerily heat-reflective interior keeps the baking even, inside and around the skulls. When you are done, it is downright unnerving how easily the pan cleans up with handwashing in soapy water. You can also use these versatile pans as moulds to create spooky ice-cubes; wriggly undead jellos; ghoulish no-bake cookie treats; oozing lava cakes; or chocolate candies.
Jack-O'-Lantern
Eager to impress your friends and family with some authentic Halloween spirit? Making a pumpkin lantern is a fantastic way to get into the spooky groove!
To carve a pumpkin, start by using a straight-edged paring knife to carefully cut out the top around the stem, creating a lid. Next, scoop out the seeds and stringy pulp from the interior using an ice cream scoop, leaving a clean cavity.
Then carve your desired design or face onto the pumpkin's surface. If you're looking to create intricate details, a serrated paring knife can come in handy. Finally, place a candle or LED light inside, replace the lid, and watch your spooky creation come to life!
Video: foodnetwork.com/recipes
If the thought of creating a pumpkin lantern seems like a daunting task, consider baking a bundt cake. With its similar shape to a pumpkin, it's sure to add a festive touch to your Halloween gatherings. To get started, all you need is a trusty bundt pan! Get the recipe here.
To add an extra dash of style, adorn your food table with Meri Meri Honeycomb Pumpkins!