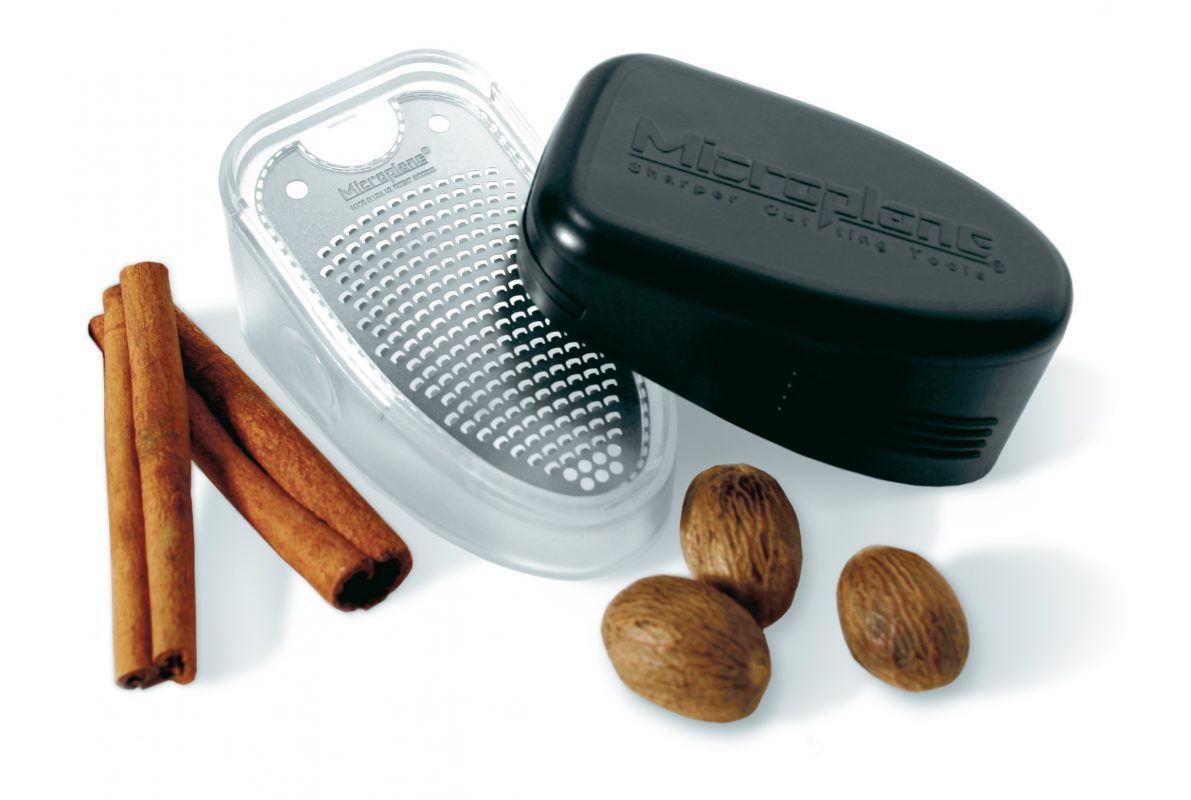 A grater is a utensil with sharp perforations for shredding foods like vegetables or cheese. Since its invention in 1540s, it has gradually become an indispensable kitchen tool . Graters generally come in different grating blade sizes and designs; this might be slightly tricky when choosing the right one for your kitchen.
Here are some tips for your consideration:
1) What is the purpose of your grater?
Some graters are multi-functional, such as the Box grater, which has 4 different grating surfaces while others usually have one flat surface. Depending on your needs, get a simple flat grater if you require mostly grating an ingredient of the same fineness. For cooking enthusiasts, a multi-purpose version can be handy to tackle the varying fineness of different ingredients.
2) What are the different types of graters I can choose from?
Multi-sided: as the name suggests, this type of grater has multiple blade surfaces. It usually comes with a fine, coarse and ribbon grater along with a slicer and is one of the more versatile graters around.
Flat: The easiest to store and most common, this is the easiest grater to handle and sits easily on any bowl to grate over. Ideal for grating small quantities of food, you can also save time by grating over a larger plate to increase the grating surface.
Rotary Table: Designed primarily for grating cheese at the dining table, the rotary table functions like a mini processor. The ingredient is put into the integral drum and grated by turning a handle, allowing minimal contact with your hands. These graters often come with an interchangeable drum that allows for slicing and shredding as well as grating, thus making them a multi-functional tool. The rotary table can also be used for grating nuts, chocolates and vegetables as well.
Microplane: This grater stands out for their super sharp stainless steel teeth. You can choose from superfine (zest, spices), fine (zest, cheese, veggies), medium (coarse zest, cheese, veggies) and coarse (cheese, veggies). Microplane graters  produce one of the finest textures compared to other graters.
3) Safety matters
Grating food requires as much caution as cutting meat and vegetables. To be safe, ensure that the grater you select has a protective cover or a grating guard. Some graters have rubber stoppers at the base or edges  to reduce unnecessary slipping.
4) Material
Most graters are made of stainless steel as they are often in contact with moisture. Stainless steel is chosen for its anti-corrosive property which is important when in contact with food and this metal is also relatively hard, which means longer shelf life for your equipment. Avoid graters made from tin as they are likely to rust in the long run.
5) Does brand matter?
A reputable brand such as Microplane is popular with consumers for its ease of use, stability and ease of cleaning. A good grater should be able to grate soft and hard items easily, leaving minimal wastage. Microplane graters are chemically created, producing razor-sharp grating surfaces that ensure an ease of use for a prolonged period of time. Most reputable graters come with ergonomic features which help reduce the pressure needed when using the grater. Selecting a good brand ensures that your grater can last for years to come and a safer prepping environment.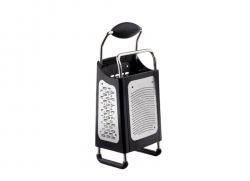 4-Sided Box Grater
The Microplane® 4-Sided Box Grater features the new Ultra Coarse blade and two of the most popular, Microplane® grating blades: Fine/Zester and Medium Ribbon, – along with an additional fourth Slicer blade. So far this product has been designated Fine Cooking's Best Overall Box Grater. In January 2009 it took top honors in the Kitchen Hand Tools category of the 2009 Housewares Design Awards.
Features
• Four-sided grater has ultra coarse, fine, medium ribbon, and slicer sides.
• Ergonomic, soft grip handle
• Easy to clean, fine blade removes for easy access
• Materials: Blades made of surgical grade stainless steel. Plastic body. Rubber Feet
• Blades made in USA. Assembled in Mexico
• Cover Included
• Weight 567 g