Flatware refers to table utensils such as knives, forks and spoons. They usually come in matching sets which can enhance the ambience of parties or simple family gatherings. Since flatware is typically used on a daily basis, it might be worthwhile to invest in quality ones.  With a dizzying array of flatware choices available on the market, arriving at the right purchase decision might be daunting.
Here are some tips to consider when making your purchase:
1) Material & Maintenance
The type of metal used will determine the longevity and amount of maintenance required of your flatware.
Stainless steel: Best for everyday use as it is considerably easy to maintain and hardy enough for constant washing. The ratio of the stainless steel matters with the most common being 18/10 and 18/0. The top number refers to the percentage of chromium in the metal while the lower number refers to the percentage of nickel present. Chromium increases strength and stainless properties while nickel creates a soft, silvery sheen and fortifies the rust-resistance.
Sterling Silver: For a more prestigious and rustic dining experience, sterling silver would be an ideal choice. This alloy is made up of 92.5 percent silver and 7.5 percent other metals that can increase durability or anti-corrosive properties.
Silver and Gold plating: Silver and gold are electroplated onto the metal, usually stainless steel to give a luxurious look while increasing the brightness and tarnish resistance. Avoid using harsh chemical detergents as it will affect the coating in the long run.
Copper rose and Titanium plating: This is done through ion-plating, a physical vapour deposition process. The advantage this process has over conventional electroplating is that flatwares have a higher durability, wear-resistance and colour brightness. Minimal care is required for maintaining this material.
2) Weight Matters
Flatware comes in different weight class as well: mainly medium weight, heavy weight, extra heavy weight and European style. Prices tend to increase proportionately to the weight.
Medium: Usually found in cafeterias and coffeeshops, it is economical and thus easily replaceable.
Heavy: More durable and overall of better quality than medium weight flatware, this class of flatware is the most common for casual dining establishments and households. It has a long life-span but is possible to be bent by hand.
Extra Heavy: Considered the premium of its class, this range is generally seen in fine-dining restaurants.
European Style: This class is three times heavier and bigger than traditional weight class flatware. Commonly seen in high end establishments and is perfect for formal serving.
3) Types of Flatware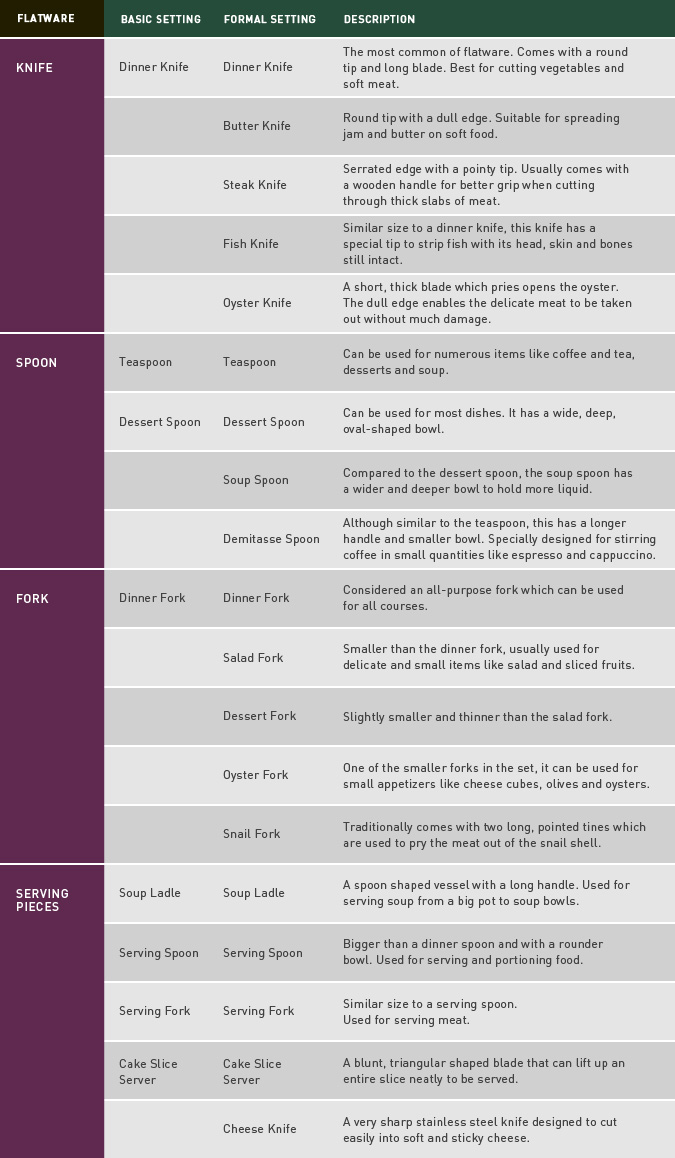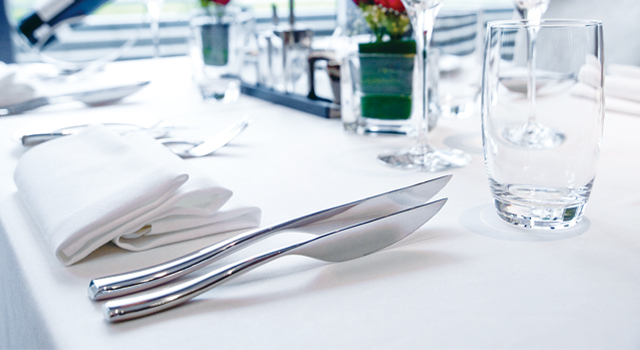 Safico
Conceptualised and designed for a refined dining experience, SAFICO is an exceptional collection of stylish stainless steel flatware, holloware and service ware.
This affordable elegance features distinctive 18/10 stainless steel construction that ensures durability without compromising its high quality polish and shine. Patterns range from simple sophistication to intricate textures. All items are commercial dishwasher safe.