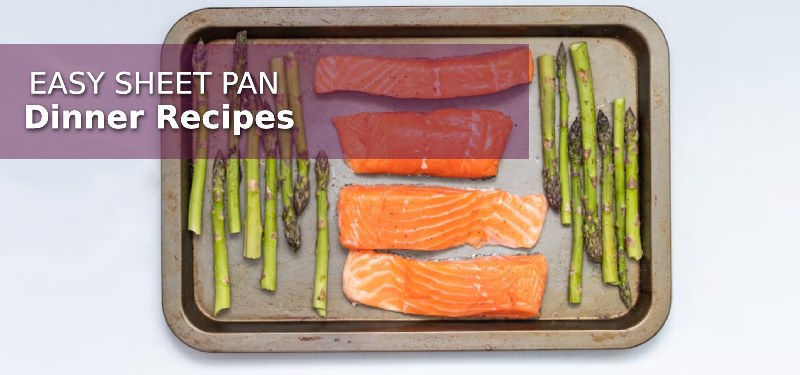 Take the stress out of Christmas with these easy sheet pan dinner recipes. All you have to do is place your ingredients on the sheet pan, and let the oven do all the work. Reduce the number of utensils and dishes with just one pan to clean up!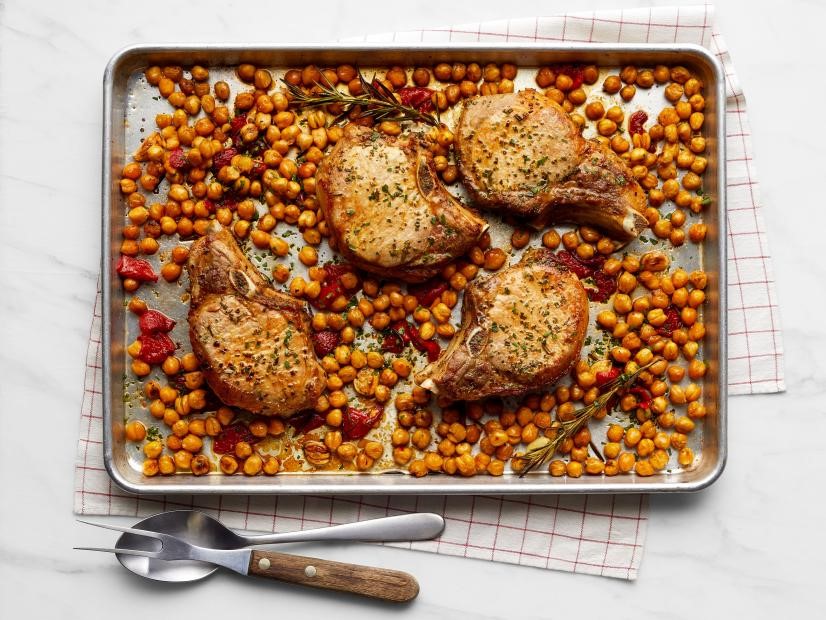 Image credit: Foodnetwork.com
Rosemary-Garlic Pork Chops with Chickpeas
This One Pan Rosemary-Garlic Pork Chop is a quick and delicious meal that will become a solid part of your weekly meal plan. The beauty of it is that all of the ingredients are cooked in the same pan, reducing clean up time. Broil pork chops to achieve a crispy texture on the outside but maintain moisture inside. Ensure your pork chops are moist and not overcooked with the Mastrad Meat Thermometer. Grab a glass of vino and let Innovative bluetooth-enabled, wireless meat thermometer monitor your dishes completely wirelessly from distance.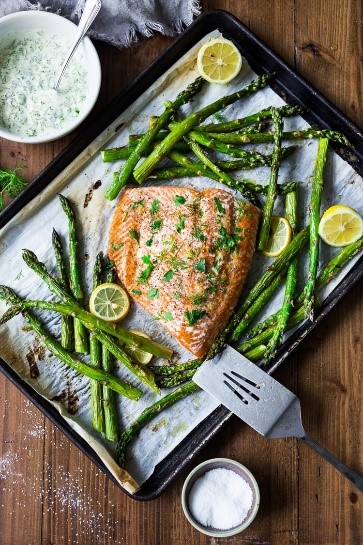 Image credit: feastingathome.com
Baked Salmon with Asparagus and Dill Sauce
Searching for a low carb recipe? This Baked Salmon with asparagus and dill sauce is a great healthy 30-minute dinner recipe! The flavours of lemon and dill work beautifully to complement the salmon and asparagus. Alternatively, you can substitute the asparagus with any other fast cooking vegetables like zucchini or eggplant. Transfer your prized fish with the Atlantic Chef Large Fish Turner where its bevelled edge helps slide beneath delicate foods preventing them to fall apart.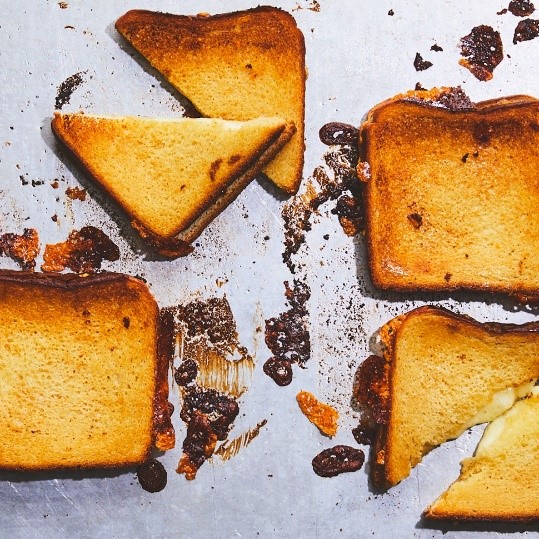 Image credit: epicurious.com
Sheet Pan Grilled Cheese
A crowd favourite! A simple, easy-to-alter recipe for fast and delicious sandwiches. In 10 minutes, you will have ooey gooey, golden brown grilled cheese sandwiches ready to serve. Cut into smaller portions for cheeezy appetisers to entertain your guest!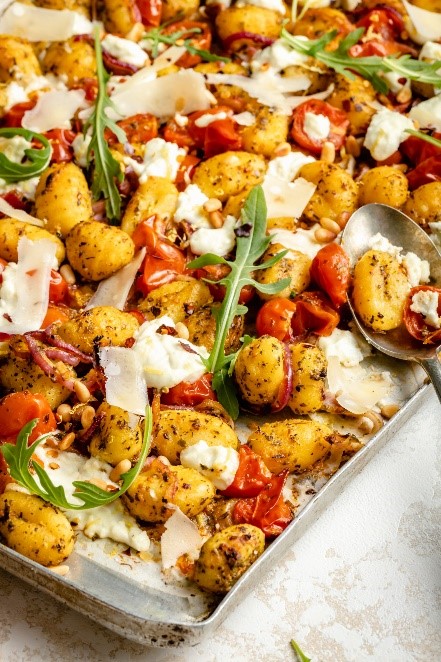 Image credit: thedefinedish.com
Pesto Gnocchi
Crispy on the outside, gooey on the inside, this is what you get from your Pesto Gnocchi on a sheet pan. Gnocchi, an Italian pasta dumplings made with potatoes, egg and flour. Instead of boiling it, all you have to do is pop it on a baking sheet, skip the cheese and meat if you want to make it a vegetarian dish! Why not make a batch of homemade pesto and store them in these 3 piece La Parfait Jars . The jars feature the famous orange rubber seal which keeps the product air tight, allowing long-term preservation.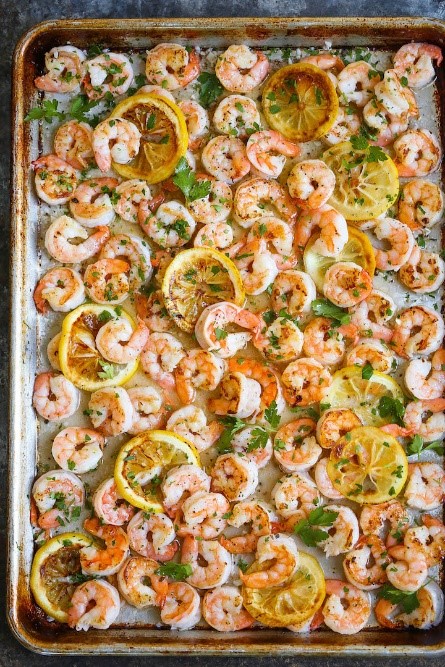 Image credit: dammdelicious.net
Shrimp Scampi
This is for busy weekday nights! Perfect for an appetizer, or as a full meal, this easy Shrimp Scampi sheet pan meal combines shrimp with garlic butter sauce. Served it up with rice pilaf or roasted broccoli! The  Cuisinart 4 piece Cooking Set will make cooking a breeze, from draining your broccoli with the slotted turner or turning your shrimps during cooking.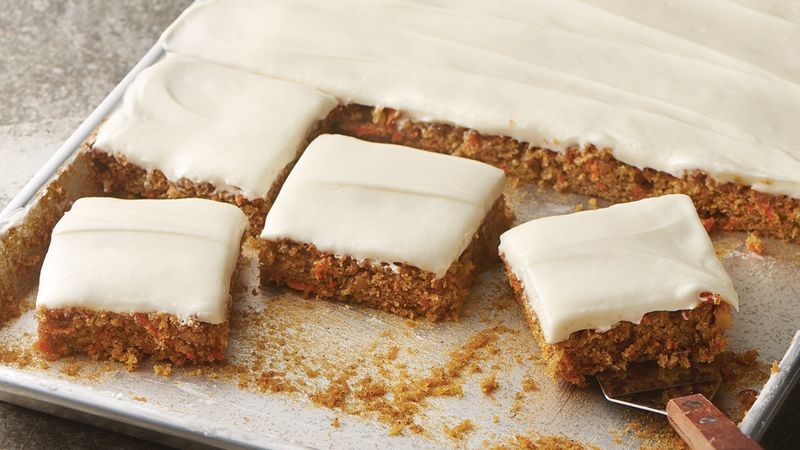 Image credit: tablespoon.com
Carrot Sheet Cake
Nothing beats a homemade carrot cake from scratch. With a golden, nutty browned butter cream cheese frosting, this irresistible cake is taken to new levels of yum. Transport this yummy treat to a party with the Nordic Ware Cakes and Cupcakes Carrier. Its flat side accommodates mini cakes and rectangular cakes, while the reverse side features cupcake holders.